Chicago Lakefront Condos For Sale
Search condos on Chicago's Lakefront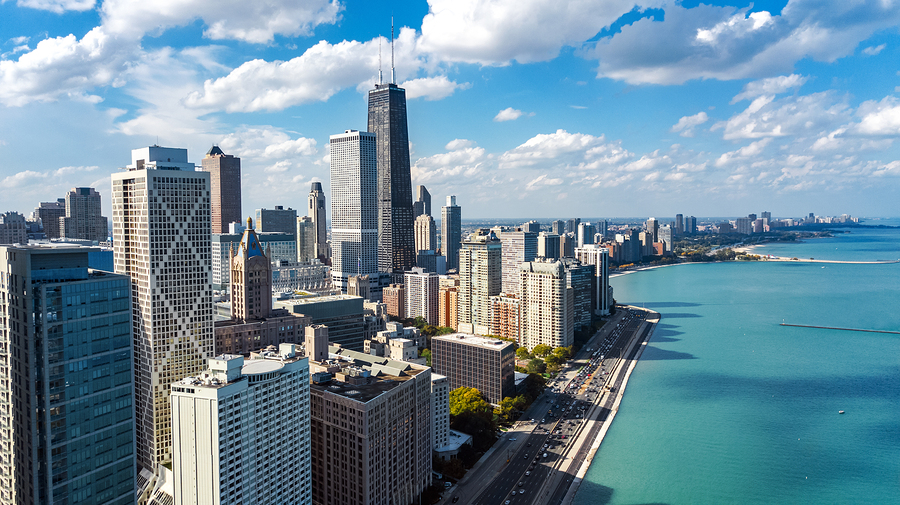 In our Guide to Chicago Lake Shore Drive properties, we'd like to go over what is so special about Lake Shore Drive, it's origin story, and what to consider when you're on the hunt for properties along or near the strip. But first, have you ever wondered what urban planners think about when they build cities? We can't say for sure. However, it's clear that the singular vision behind Lake Shore Drive was inspired by the great urban planner and architect Daniel Burnham, who said:
Make no little plans; they have no magic to stir men's blood and probably themselves will not be realized. Make big plans; aim high in hope and work, remembering that a noble, logical diagram once recorded will never die, but long after we are gone be a living thing, asserting itself with ever-growing insistency. Remember that our sons and our grandsons are going to do things that would stagger us. Let your watchword be order and your beacon beauty.
In Chicago, our beacon is certainly Lake Shore Drive.
Lake Shore Drive, a.k.a "Outer Drive", the "Drive", or "LSD" for short is an expressway running parallel to the shoreline of Lake Michigan, along Chicago Illinois. The bulk of LSD is part of Highway 41, connecting Chicago communities from North to South: Edgewater, Uptown, Lake View, Lincoln Park, North Side, The Loop, South Side, Douglas, Oakland, Kenwood, Hyde Park, Woodlawn, and South Shore. Lake Shore Drive, from start to finish is contained within Cook County, Chicago.
Search Chicago Lakefront Condos For Sale
December 6, 2022
Why is Lake Shore Drive Such a Beauty?
Because most of Chicago's shoreline is outfitted with public parks, Lake Shore Drive is astonishingly scenic. As Lake Shore Drive traverses the lakeside parks, drivers can admire the views and the various amenities the parks provide. As well, multi-use paths dot the expressway, perhaps the most beloved of these is the Chicago Lakefront Trail, an 18-mile path that careens throughout the parks on the Drive.
The other Lake Shore Drive parks are:
Lincoln Park
Grant Park
Burnham Park
Jackson Park
Origins of Lake Shore Drive and the First Jaw-Dropping Property
Potter Palmer, owner of the lakefront "castle" at 1350 N. Lake Shore Drive forced the city of Chicago's hand in 1882 to build the street adjacent to his castle to boost his property's value. At the start, the drive was intended for the wealthy to stroll leisurely in their carriages, however when automobiles took off the Drive took on an entirely different role and vibe.
Despite the changes, Lake Shore Drive has continued to be synonymous with luxury living. In fact, one of the most expensive homes ever listed in Chicago is a Lake Shore Drive lakefront home, as well as a historic landmark. The property, built in 1916 by banker Edward Tyler Blair, was listed in 2016 for $17 million dollars. The nearly 12,000 square-feet of living space showcased the original marble fireplaces, soaring ceilings, floor-to-ceiling windows, and of course the view – Lake Michigan. This property is a knockout. Of course, the homes on Lake Shore Drive, as well as the hundreds of luxury condos are all landmarks. And although they may not reach the $17 million asking price, they are each a pretty penny in themselves.
Guide to Lake Shore Drive Properties – Where is this Going?
The day of horse-drawn carriages are long gone. Since then, the well-to-do continue to congregate on the shores of Lake Michigan along Lake Shore Drive. The scenic Drive has undergone many extensions and the implementation of new pedestrian promenades, bike paths, and access projects over the years, all the while focused on keeping the historic parks and venues along the route intact. The road to the future for this expressway continues to be bright, however it is fraught with contention and controversy – something you may want to heed as you explore homes along Lake Shore Drive.
What's The Controversy?
Discussion to extend the Drive always seem to be in the works. At times, city officials keep the plans "hush hush," at other times they seem to be more open to public feedback. Although extending Lake Shore Drive seems like a great idea, after all certainly as the expressway is extended, more lakefront parks and pedestrian access may be added; however, by extending the drive, current residents dispute the new builds, citing those in Rogers Park, Edgewater, and elsewhere will be cut off from the lake.
If the plan went into effect, what would it look like? The ideas floating around, include:
Reconfiguring the beach using lakefill to move it hundreds of feet to the northeast.
West of the beach would expand to include a new park stretching more than a mile beyond North Avenue.
Building a pedestrian promenade from Streeterville to the beach.
Replacing the Chicago Avenue entrance to LSD with an overpass, which would make the current stoplight that slows traffic moot.
Rumor has it that officials will have a final plan for whether LSD will be extended or not by 2020. Residents are invited to contribute their ideas through online surveys and townhall-style meetings. Time will tell the direction of Lake Shore Drive takes in the future.
Whatever the future holds, the fact remains: Lake Shore Drive is a jewel in Chicago's crown. Residents on the Drive can thank their lucky stars for being a part of city planning history – after all, these property owners have front row seats to the exciting changes that await this historic and most scenic of expressways.