The Top Ten Reasons to Live in River North
Posted by Delphine Nguyen on Tuesday, January 25, 2022 at 9:00 AM
By Delphine Nguyen / January 25, 2022
Comment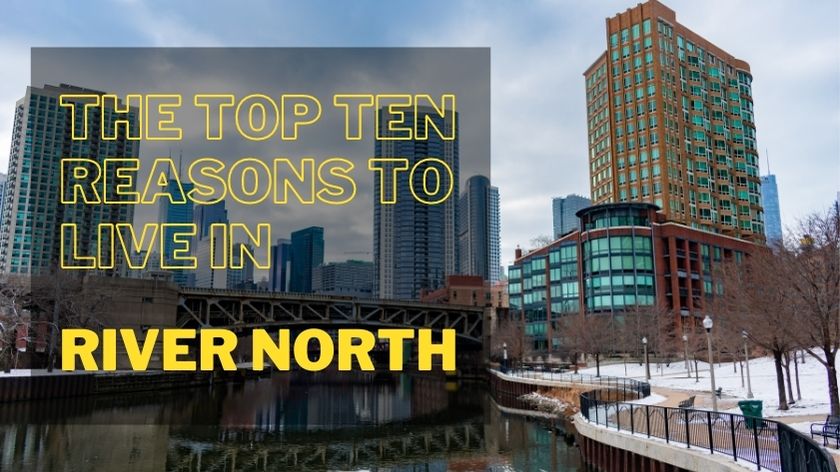 The Top Ten Reasons to Live in River North
River North is one of the most happening neighborhoods in Chicago. Living in River North gives you access to some of the best restaurants, art galleries, and nightlife. It also offers plenty of green space, making it the perfect place to live if you want to be close to the city but also enjoy a little bit of nature.
The area was once a manufacturing district with warehouses and other industrial structures. It has since been converted into one of Chicago's most popular entertainment and living destinations. If you're seeking a high-energy neighborhood with lots of glitz and glitter, River North is the place to be.
Here are the top ten reasons why living in River North is awesome:
Reason #01: The Restaurants
There are some amazing restaurants in River North. Whether you are in the mood for Mexican, Italian, or American food, River North has something to offer.
From upmarket eateries to casual diners, River North has a restaurant to suit everyone. This is not a restaurant guide, so we won't list them all, but here are a few of our favorites, just to give you an idea.
- Good Measure - This chill industry-approved haunt on Chicago Avenue offers fantastic cocktails at affordable costs, creative bar food, and more edge than other downtown bars.
- RPM Italian – This Chicago institution serves up classic Italian dishes like spaghetti carbonara and veal saltimbocca.
- Chicago Chop House - A real old-school steak house for all meat lovers.
Reason #03: The Art Galleries
If you love art, then you will enjoy living in River North. There are a variety of art galleries that host either exhibits or artist receptions for local artists. Living in Chicago gives you access to so much culture – it's great!
Again, we don't have room to list all the galleries available to art lovers in River North, but here is a list of the most significant,
Reason #04: The Condos and Lofts
Once known as Smokey Hollow because of all the factories and warehouses, River North has undergone a massive transformation in recent years. There are now plenty of high-rise buildings available for those who want a modern, state-of-the-art apartment in this vibrant neighborhood.
But the neighborhood also retains a fair share of industrial buildings and warehouses. These buildings have been converted into lofts and condos that are perfect for those looking to live in a trendy, modern space.
Reason #05: The Rooftop Bars
With all the high-rise buildings providing amazing views of the city, it is only natural that some of them have bars on their rooftops! Living in River North means having access to dozens of rooftop bars where you can sip cocktails as you relax after a long day.
Check out the Bounce Sporting Club on game night, relax in style at the upmarket IO Godfrey Rooftop Lounge, or if you are in a more informal mood, hang out at the Cityscape Bar.
Reason #06: The Transportation Options
Living in River North puts you near public transportation options like trains and buses that can take you easily around Chicago. Living within walking distance of Michigan Ave also gives you the opportunity to experience the city without having to use public transportation.
Reason #07: The River
River North borders the Chicago River, giving it its name. This is a great place for residents to take walks, go fishing, or just relax and enjoy the view.
With the Riverwalk just across the bridge, living in River North means being able to take a stroll along the waterway on your way to work or just for fun.
Reason #08: The Parks
Living in River North also gives you access to some great parks, like A. Montgomery Ward Park and Washington Square park, with its beautiful floral displays. These parks are perfect for a weekend picnic or a relaxing walk on a sunny day.
Reason #09: The Shopping
Living in River North puts you near some of the best shopping in Chicago. It is home to the Magnificent Mile – a stretch of Michigan Ave that is packed with high-end stores and restaurants.
Another must-see is the TheMART (also known as the Merchandise Mart), which covers four city blocks with a height of 25 stories, and has a gross square footage of 4.2 million. Its tenants include manufacturers' showrooms and corporate offices as well as restaurants and other businesses.
The Shops at North Bridge is a premium shopping center in River North, immediately adjacent to the Chicago River and Michigan Avenue. It has more than 50 world-class retailers and businesses, including Nordstrom's flagship store.
Reason #010: The Views
Last but not least, one of the best reasons to live in River North is the views. You can see all of Chicago's amazing architecture from anywhere in the neighborhood. Whether you are looking out your window or sitting on a rooftop bar, the views are always stunning.
As you can see, there are many reasons why living in River North is a great idea! It's close to public transportation and has plenty of green space. Plus it's walking distance from all those delicious restaurants with amazing food - what more could one want?
If you are interested in buying property in Chicago's most vibrant and up-and-coming neighborhood, be sure to contact us today! The Delphine Team can help you find what you are looking for. Contact us today!