The 5 Most Luxurious Apartments in Downtown Chicago
Posted by Delphine Nguyen on Tuesday, May 26, 2020 at 7:24 AM
By Delphine Nguyen / May 26, 2020
Comment

It seems by the time one luxury apartment is completed in downtown Chicago, another one is already being constructed, each trying to outdo the others in amenities, spaciousness, and epic views of the Windy City. There are so many possibilities for you when selecting a new apartment, let alone a new neighborhood of Chicago, it can be hard to choose. I've got you covered on what's trending now in 2020 –– here's our list of the five most luxurious apartments in downtown Chicago right now :
ECHELON in Fulton Market
Where the West Loop meets River North, that's where you'll find the Echelon luxury apartments of Fulton Market. Once a warehouse district, Fulton Market is now gentrifying into a popular restaurant and art scene. The popular chefs CJ Jacobson and Grant Achatz have restaurants nearby, plus there are excellent locations for a night out like Maude's Liquor Bar.
Residents of Echelon can enjoy panoramic views of the downtown Chicago skyline from their apartments, which has made these luxury apartments a top choice. The apartments come with a 24-hour concierge, an outdoor pool, fitness and business centers, and in-unit laundry facilities. The spacious bathrooms and natural light feel especially luxurious.
NICHE 905 in River North
Niche 905 in River North lives up to the neighborhood's reputation for excellent design. This luxury apartment feels more like a spa than an apartment complex. Current residents wax poetic about the rooftop outdoor swimming pool and hot tub, on-site pet grooming, complimentary coffee bar, and yoga studio. And that is just the beginning of the long list of luxurious features at Niche 905.
The greatest and oft-repeated praise is that you can't beat the view. Not only do individual apartments have floor-to-ceiling windows, but from the rooftop, residents can enjoy stunning 360-degree views of downtown Chicago. When the yearly Air & Water Show comes around and the planes fly overhead in loops and whirls, you'll have the best seat in the city.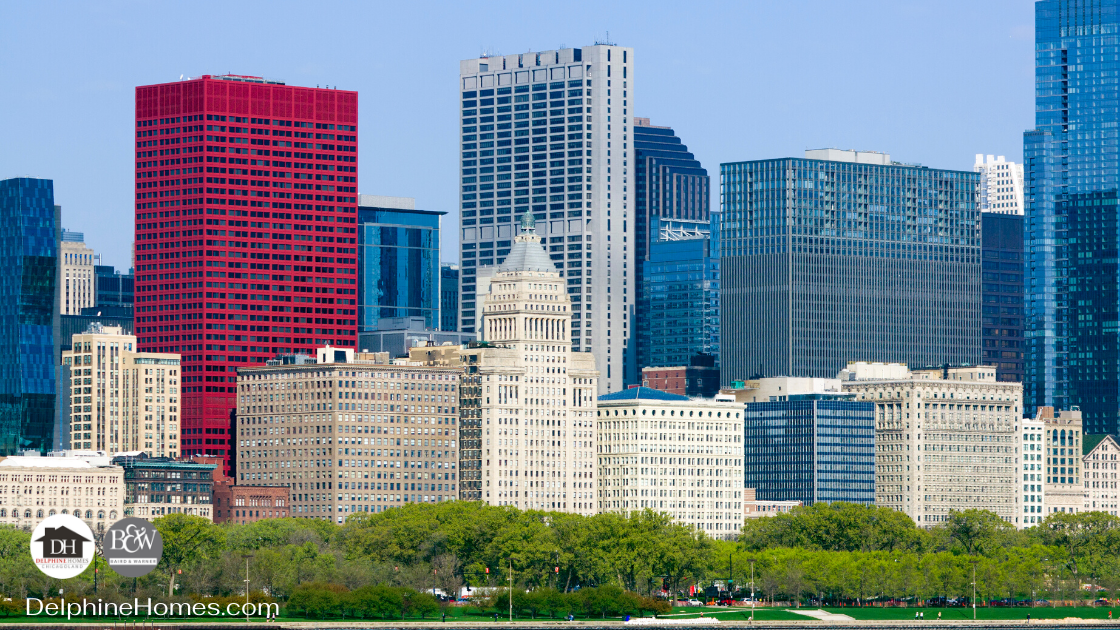 LINCOLN COMMON in Lincoln Park
There is not one, but two separate apartment buildings for the Lincoln Common in Lincoln Park. That means you have double the chance to find an apartment in this luxurious complex. With frequent residential social events, two sky lounges, and a game room with an arcade, shuffleboard, and pool tables, you can meet other residents and make new friends quickly. There is always something to do both in Lincoln Common and Lincoln Park itself.
Lincoln Park is one of the most well-known neighborhoods of downtown Chicago thanks to the Lincoln Park Zoo, concert venues, beautiful parks and lakefront, and the plethora of trendy cafes and restaurants. Living at either tower of the Lincoln Common puts you at the heart of this destination hot spot.
NEMA in the South Loop
The South Loop is already known for its constantly expanding listings of luxury apartments, but the new NEMA apartment complex stands above the rest (it really does––it's now Chicago's tallest apartment building). 70,000 square feet of NEMA are devoted to nothing but luxury amenities for its many residents. It has a basketball court, golf simulator, squash court, two pools... and that's just for sports lovers.
We are hard-pressed to say the NEMA doesn't have everything you could think of. There are concierges just to fix your tech, an outdoor deck fitted like a spa, and the "Chef's Kitchen" where residents can learn from cooking demonstrations on Subzero and Wolf appliances. They even have "smart elevators" that use algorithms to move riders to their desired floor with the most efficiency and speed. Living at NEMA is like living in the luxury apartments of the future.
LUXE ON MADISON in the West Loop
The Luxe on Madison seems to have been built specifically with foodies in mind. The West Loop of downtown Chicago is known for its world-class fine dining––the Oriole, Next, and Smyth restaurants are all around the corner from this luxury living spot. Residents of the Luxe on Madison enjoy spacious kitchens with a generously sized kitchen island, quartz countertops, and modern stainless steel appliances. It's an ideal apartment for entertaining dinner guests.
Even if cooking and fine dining aren't your thing, the Luxe on Madison has many other luxury amenities such as large private balconies, computer lab and conference room, drop-off and pick-up dry cleaning, and even a West Loop Market on the first floor. And, of course, you can always go to the deluxe rooftop deck to take in the stunning downtown Chicago skyline.
Which of these luxury apartments in downtown Chicago are right for you? Luxury may just be in the eye of the (skyline) beholder.