Moving into new house checklist: 11 Tips for Mere Mortals
Posted by Delphine Nguyen on Sunday, January 30, 2022 at 6:45 PM
By Delphine Nguyen / January 30, 2022
Comment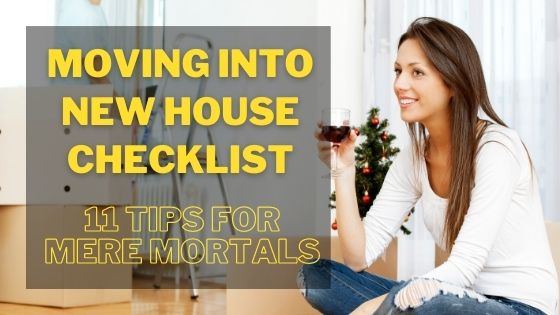 Your Essential Moving Into a New House Checklist to Instantly Make a Strange Place Home
Why do you need a "moving into new house checklist?" Because moving into a new house is one of the most exciting and stressful things that can happen in your life.
Some people make it look easy. You know the hyper-organized organized types with picture-perfect families. But for us mere mortals, it can be a whole other story.
You suddenly find yourself in a new place. All your possessions are packed away inboxes. You don't know where anything is.
It's a daunting task, but with careful planning, you can make moving into your new house a breeze. Here are 11 steps to help make your moving day less stressful:
1. Take measurements and plan the furniture layout
Before you move, measure the rooms of your new house. Use these measurements to plan out where you're going to place furniture and other items in your home, so you don't have to move any furniture twice.
While you are taking measurements, make some sketches of how you plan to layout your furniture.
When it's time to move, you'll know exactly where to place each couch and table. The confusion of boxes may seem less daunting when there's a little organization in the furniture arrangement.
2. Change the locks
One of the first things you should do when moving into a new house is change the locks. You don't know who may still have a key to your home, and it's better to be safe than sorry.
3. Deal with electric, plumbing, and safety issues
It's important to address any electrical, plumbing, or safety concerns before moving into your new home. Check for any leaks in the plumbing and make sure all outlets are working.
During your first cleaning, look for the circuit breaker box and main water valve to learn where these vital controls are. Look at your house's blueprint if you have difficulties finding them.
If you're moving into a new home with young children, it's essential to childproof the house before they start running around. Address any safety concerns that you may have and make sure all of the locks on doors and cabinets are in good condition.
4. Prepare basic cleaning supplies for quick cleaning
You're going to want to get your new house in order as quickly as possible. Stock up on basic cleaning supplies like bleach, ammonia, dish soap, and all-purpose cleaner so you can start disinfecting surfaces as soon as you move in.
At the bare minimum, you should clean your new home's bathroom and kitchen before you settle in.
Yes, the house most likely received a thorough cleaning from its former owners. However, because the home was put on the market recently, we don't know how many people have gone through touching the surfaces.
Cleaning the bathroom and kitchen first before you start storing boxes in your home will ensure that it is safe and clean for your loved ones.
5. Transfer utilities to your name before closing escrow
One of the most crucial moving day tips is to transfer utilities before you close escrow. You don't want your electricity or water cut off, so it's best to have these types of bills set up in advance with your new address.
If your gas and water are turned off, it might take a few weeks to reconnect. And that is a hassle you don't need when trying to acclimatize to a new home.
Before you move in, make sure you contact your utility company so that you have water, electricity, and heat when you arrive at your new home.
6. Make sure all appliances are working
Make sure all major appliances are working properly before moving into a new home. It's the last thing you want to do on moving day is deal with a broken washer or refrigerator, so take care of it before moving in and save yourself some stress.
7. Fill the freezer with easy meals
You're going to be tired after moving into your new house, so having food that requires minimal effort will be a lifesaver.
Scrambling around in boxes trying to find a can opener and a pot to boil water is not what you want on moving day.
Stock the new kitchen with easy meals like frozen dinners that require minimal effort before moving in. It will save you time when all of your energy goes towards unpacking boxes after moving into your new home.
Also stock up on fresh fruit so you can eat something healthy. You will need the vitamins.
8. Keep your everyday essentials within easy reach
Pack your most important daily items into a box. Things like medication, phone chargers, children's sleep equipment, etc. Keep this somewhere easily accessible and safe.
You don't want to be digging through boxes on moving day trying to find your chargers or headache pills.
9. Pack a bag as if for a short trip.
Moving is exhausting, so pack a bag like you're going on a short vacation. This means a few days' worth of clothes, a toothbrush, and your other toiletries. Having these items and a change of clothes at hand for the first few days after your move will make things a lot less stressful.
10. Help your pets adjust with consistency.
Moving day is hard enough for humans, so try not to stress your household pets as well, if possible. Keep everything in its place for them. Put their feeding and water bowls and bedding in the same spots as your last home. This way, they can get used to their new surroundings quickly.
And try to keep their routine as normal as possible. This will help them feel safe and comfortable in their new home, which is key for keeping your moving day as stress-free as possible.
11. Get to know the neighborhood before you move
It's always a good idea to explore the neighborhood before moving into it. This way, you'll know what type of stores and restaurants are nearby, and you can start getting familiar with your new surroundings.
These are just some moving day tips to help make the process a little easier. By following these simple steps, you'll be able to move into your new house without any major problems. Enjoy your new home!
And if you are still looking for a new house to call home, call The Delphine Team today, and we'll be happy to show you some of our stunning listings.