Move To Chicago
Posted by Delphine Nguyen on Monday, April 15, 2019 at 4:26 AM
By Delphine Nguyen / April 15, 2019
Comment
Moving to Chicago? Read these 51 Need-to-Knows First
Moving to a new city can be a daunting enterprise. We've decided to ease the pain by providing an article that covers everything that may be of interest to new Chicago transplants.
We've guided hundreds of clients relocating to Chicago for work or otherwise and have fielded their questions. In this round-up, we highlight some of the most common questions that have come up over the years, as well as several good-to-know tips curated by bonafide Chicagoans.
Topics in this article cover the gamut and include transportation, Chicago real estate, homes for rent, apartments and condos for rent, money, work, lifestyle, and lots more! We've even addressed certain topics that will be particularly useful for non-US citizens relocating to Chicago for work.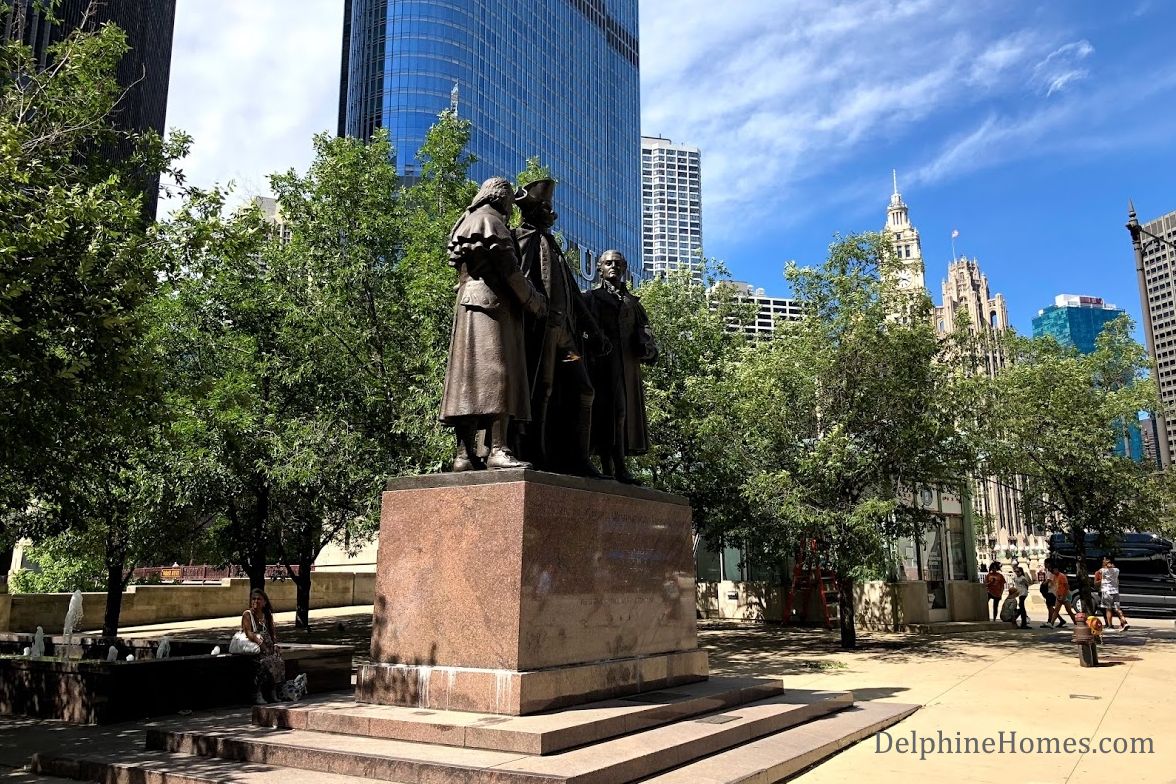 As someone who moved to Chicago 10-years ago, I know how hectic taking the plunge and starting over in a big city can feel – particularly for families. Hopefully you'll find these tips useful no matter your motivation to move to the windy city!
What do you need to know before moving to Chicago?
Dive in and find out!
1. It's pronounced "Shi-ka-go-ans"
Chicagoans.
That's what we call ourselves. You may want to practice this one in the mirror several times before walking it around the block. Not the easiest word to say, but you'll undoubtedly refer to Chicago residents – and yourself - with this moniker sooner or later.
2. Lock-down accommodation prior to your arrival
One of the first questions you'll want to ask yourself is whether you're prepared to commit to buying Chicago real estate before your arrival, a long-term rental, or temporary accommodation before your arrival.
Your decision comes down to how much time (and money) you can shell out to scout your property before making the move. If you have the resources to visit Chicago and get the lay of the land and feel comfortable enough to sign a lease or examine the homes for sale and make your purchase before relocating – kudos to you. However, I'd recommend opting for short-term accommodation first for several reasons:
- You'll get familiar with the city and have a better idea of what you want
- You're less likely to be the victim of rental scams (more about that below)
- You won't feel the pressure of biting off more than you can chew
3. Research everything you read in apartment listings
Most of us can read between the lines for those real estate buzz words that tend to fire off alarm bells. When an apartment is "cozy" – translation? Small. "Quaint" – translation? Old.
For this reason, read apartment listings with a skeptical eye and research their claims, particularly when it comes to neighborhoods and boundaries. For example, Humboldt Park is not "West Wicker Park." Not by a longshot. PadMapper is a useful tool to cross-check neighborhood boundaries via their map.
Our recommendation to anyone considering a move to a new, unfamiliar city? Reach out to a local real estate professional and ask questions. Be sure that you connect with trusted Chicago realtors with the experience, expertise, and local knowledge you need so you can make informed decisions.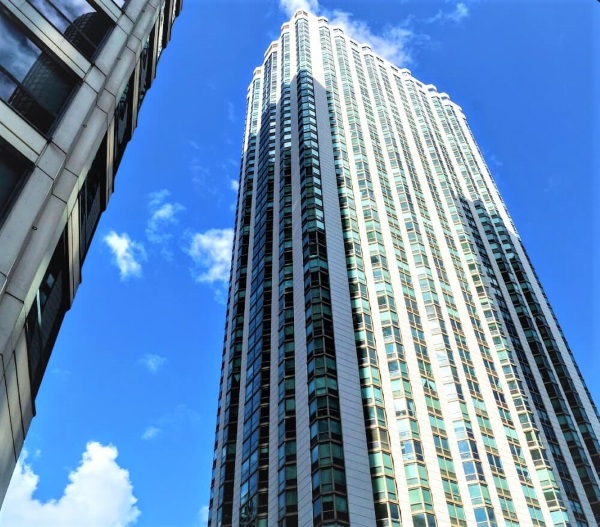 4. Make sure to book accommodation that will end on the upcoming 1st to give you enough time to find something more permanent.
Prior to your move, chances are you have a lot on your plate. Consequently, you may not have a heck of a lot of time to scour the rental market to snag something more permanent. In the meantime, consider booking an Airbnb Chicago apartment. You'll have the comfort of knowing a place is waiting for you before your arrival. Besides, it's more intimate and convenient than a hotel room. You can cook and have plenty of space, feeling like you're in a sense, already home.
Most rentals start on the 1st day of each month. If you haven't found a place after the 1st, then you may need to line something up for the following month.
Although most units rent on a lease that may be renewed every one or two years, you can find plenty of rentals that are month-to-month. Of course, you'll probably want to find a place that's furnished if it's short-term. If you're ready to commit to a longer-term unit, then unfurnished would suit you fine.
5. Consider renting a private room in someone's home
If you're flexible on whether you want an entire apartment to yourself or can make do with a private or shared room in someone's home, then Airbnb has apartments to suit just about any budget. Renting a room in someone's house or apartment can be a great option. Most Airbnb hosts we've come across are quite gregarious and eager to chat about their city.
Renting a room in their home not only puts a roof over your head while you look for a more permanent solution, it gives you a great opportunity to pick a local's brain and learn more. Plus, you might hit it off and make your first new friend in Chicago!
While useful, sites such as Craigslist can be risky if you commit to a rental, sight unseen. While Craigslist is a great resource for apartment searchers, it's something you really must explore "on the ground." Locking down an apartment via Craigslist remotely is not ideal, why?
6. Be wary of scams when apartment hunting
Craigslist is the go-to resource for apartment hunters, and for good reason! The housing section is versatile, featuring the categories of apartments/housing, housing swap, house wanted, office/commercial, parking/storage, real estate for sale, rooms/shared, rooms wanted, sublets/temporary, and vacation rentals. For anybody looking for a temporary, as well as permanent solution, Craigslist is a great tool.
Unfortunately, the awesomeness of the site has been taken advantage of by con artists. In fact, it's projected that up to 25% of listings in the Craigslist housing section are scams!
Some common red flags include owners that are out of town, a background check requested before you see the property, no photos, or worse – photos of a legitimate listing that have been cloned by the scammer with a price that's "too good to be true."
Do the listing photos have MLS watermarks? Eeeek. Watch out! This indicates that the individual who posted the ad scraped the photos elsewhere and doesn't have the original pics. You can perform a reverse image scan of the apartment listing photos with TinEye. Or, right-click on the image and choose "Search Google for Image." In this way, you can see whether the apartment pictures have been used in other listings.
Fortunately, house hunters can red flag suspicious ads, upon which Craigslist removes them rather fast. But often the listing has been live long enough to bait unsuspecting renters into the trap.
This won't happen to you because you've been warned!
If you're trying to secure a rental unit before you land in Chicago, be sure to contact reputable rental agencies or even myself.
7. There are 245 neighborhoods in Chicago
Whoa, that's a handful, eh? Each neighborhood is a rich tapestry of history, folkways, and quirks. Fortunately, we've cut down on some of the legwork for you and provided a list of our favorite Chicago neighborhoods and suburbs.
Chicago Popular Neighborhoods
8. Choose your neighborhood before choosing your apartment
Of course, there are several variables that come into play that will help you narrow the 245 neighborhood options down to… 25? Maybe? Commute, safety, lifestyle, and price will all factor into determining which neighborhood(s) you want to target in locating your apartment or home.
9. Keep in mind - summer move-in dates are in high demand
Why does everyone here in Chicago seem to move in the summer season?
One word: WEATHER!!!
Chicago enjoys warm, beautiful summers, making the months of June through September a popular time to move. The higher temps mean higher demand, and with that – higher prices.
While there are more options on the market, rentals and homes tend to sell fast. This leaves less room for renters and home buyers – particularly first time homes buyers - to maneuver when negotiating for deals.
10. The busiest months to move in Chicago are May and August
You'll also quickly discover that May and August are the two busiest months to move in Chicago. In May, college students are moving to the city to get installed before their term starts. In August, college students pack up and move away.
Expect moving vans, movers, and related professionals to be busy – with prices higher than usual.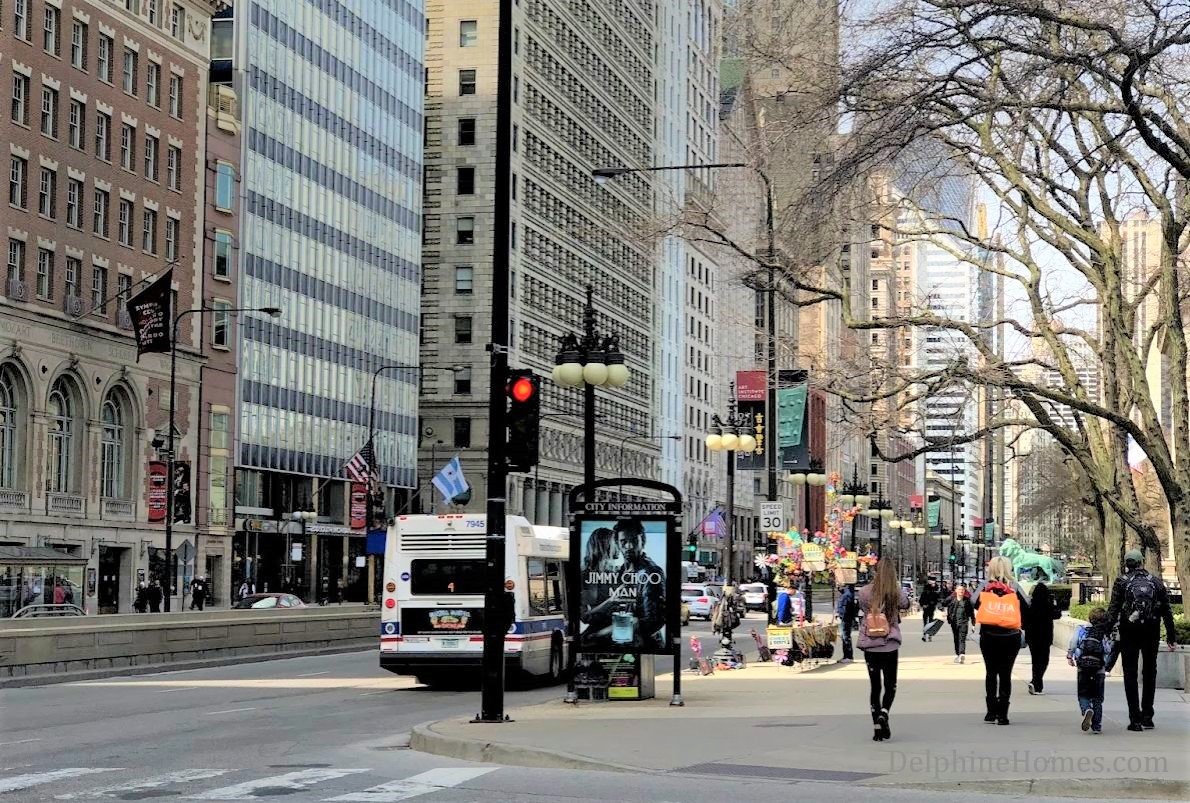 11. The slowest moving month in Chicago is November
For those who aren't all that thrilled about the competitive rush for Chicago rentals in summer, you may prefer the slowest month of the year – November. Although you may risk it snowing (it's a pain to lug grandma's organ through inches of snow), there are fewer people looking to move, making it easier to negotiate rent and snag a great deal.
This slow period tends to continue through February, making November through February the low-season in Chicago.
12. Do you know Chicago's two "moving days"?
Okay, here's a secret; and like magicians, realtors aren't supposed to divulge their secrets so don't tell anyone I told you…
There are, what we call in the biz – "two moving days" in Chicago. On these two days, about 20% of the properties sold or rented will be moved into.
These two days are October 1st and May 1st.
Of course, these timeframes aren't an exact science. Remember the 245-neighborhood thing? Yeah, you have to take that into consideration. Each neighborhood has its own ebbs and flows. The neighborhoods that see younger renters may experience a higher turnover. On the flip-side, neighborhoods that are more attractive to families who often look for a more permanent home will be different.
Anyway, keep these timeframes in mind as rental hunt.
13. Chicago is the eight most expensive U.S. city for renters
According to a recent rent affordability report, Chicago ranks eight most expensive city to rent in the US. While this ranking may make your eyeballs pop out of their sockets, you can pop them back in because the news isn't all bad.
As far as US cities go, given the innumerable amenities, history, culture, and housing stock that windy city has to offer, Chicago is a steal by comparison. For example, a one-bedroom apartment in Chicago is averaging $1,080. A one-bedroom apartment in San Francisco? Triple that number.
Good news is average rent in Chicago seems to be trending downward, clocking in 2% cheaper in February 2019 compared to January 2019. Perhaps 2% isn't a reason to jump up and down, at least it's going in the right direction and not ballooning out of control as we've seen in many other metros.
14. Consider ditching the car…
Chicago transplants contend that the speed-limit within the metro are considered mere suggestions by local drivers. Hey, maybe their favorite deep-dish pizza place is about to close, we won't judge. While it's true most wheel-bound locals drive fast, the city is relatively drivable by big-city standards.
If you're a car person, the inclement weather, outrageous insurance fees, and overall hassle of maintaining a car in Chicago might be worth it. If you're one who just wants to get from A to Z by any means necessary, whether that be car, bus, subway, boat, donkey, or passenger pigeon – then you'll be happy to discover that Chicago is one of the best cities for public transportation, making car ownership moot.
15. Keeping your car? Heed this day…
Ye 'ole street cleaning days are carved in stone in Chicago. If your vehicle is parked on the street during said day, it will get towed… and you will pay a fine… and you will never forget the street cleaning days in your neighborhood again.
16. Oh yeah, and these months on snow routes
There's more…
Chicago gets a lot of snow, right? 35 inches on average. Every year, beginning December 1st through April 1st, cars are prohibited to park on over 500 miles of main road. Officials at the Department of Streets and Sanitation enforce this ban, regardless of whether there is any evidence of the white stuff. It's not that these government employees hate snowmen, snowflakes, and everything that's beautiful in the world – it's simply a precautionary measure that allows workers to salt and plow the city's main roads in the event of snowfall.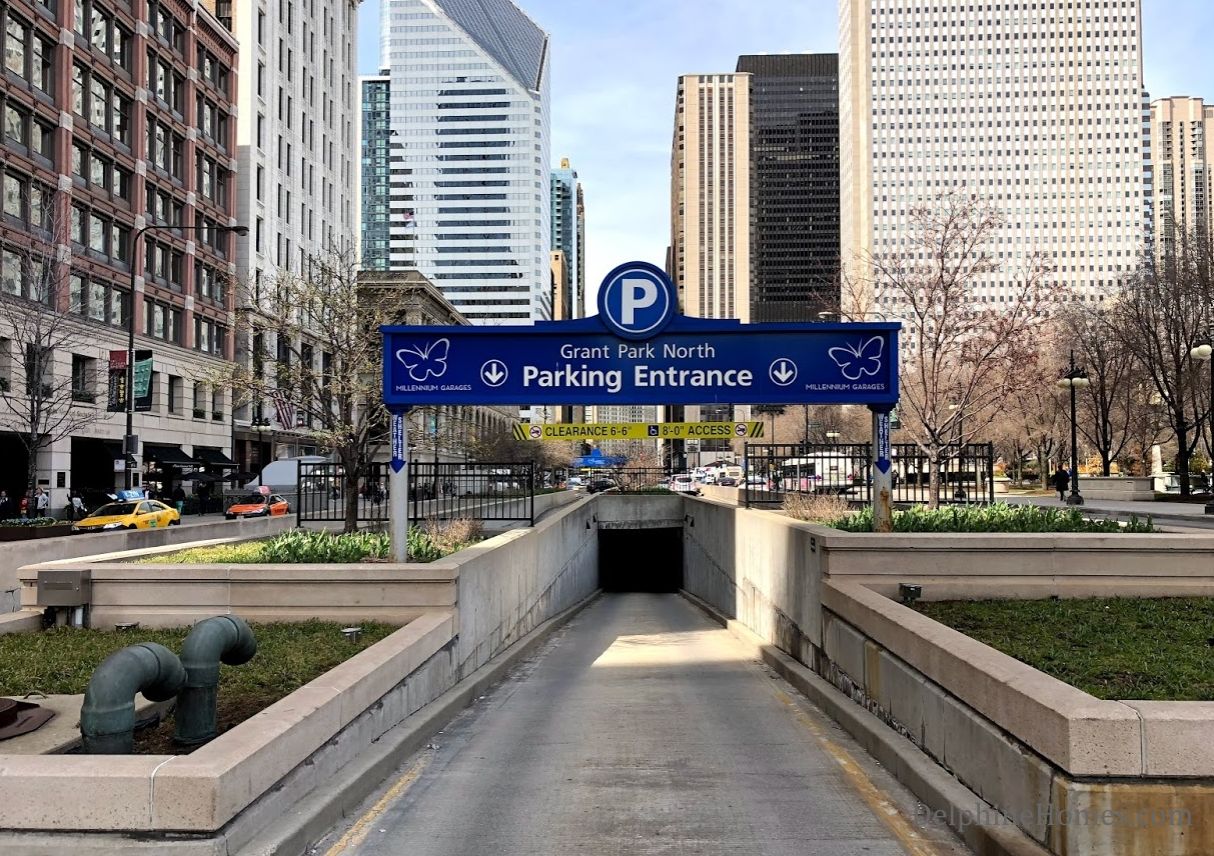 If you do manage to find a parking spot not on a snow route, be sure to follow this local custom: he who shovels claims the spot. That's right, parking spots are claimed based on who shoveled the spot first – it's a hard-earned prize for having a car in Chicago.
17. Car owners also get taxed…
If your car is within city limits for 30-days or longer, you must purchase a City Vehicle Sticker. This is an annual tax levied by the city for your wheels, no matter how awesome they are. New residents have 30-days from their move-in date to purchase a Chicago City Vehicle Sticker. Don't forget to display it, otherwise it doesn't count. You can purchase your sticker online through the City Clerk's office.
Let's get away from the topic of car ownership and move towards more fun things, shall we?
18. For an aerial view of potential parking spots, there's the Skydeck!
Chicago is known for being the birthplace of the skyscraper – and who can argue with that from this view!
You're on top of the world at the Willis Tower. For a 25-year stretch, it was the tallest building in the world. The view at the top affords an eye-gaping 50-miles and four states.
For the adventurous, the Ledge at the Skydeck will put some butterflies in your stomach. Don't worry, there is no risk of flying off or getting whisked away as the ledge is within a four-walled glass enclosure. The drop is still off the charts – it's 100 floors down…
19. The "L" will become your favorite letter in the alphabet
In other cities, public rails are called "subway," "metro," or "tube" – but in Chicago, it's called simply the "L".
L stands for "elevated" – because most of the Chicago Transit Authority's (CTA) tracks are above ground, affording riders awesome views. From your seat aboard the L you can admire plenty of Chicago's best sights, from lakefront views to museums, parks, zoos, and of course what Chicago is most known for – architecture!
Fares are comparable to other cities. For those relying on the CTA for most of their travel, the monthly pass may be your best choice. At $105 per month at the time of writing, the monthly pass will take you throughout the city limits and beyond.
For more information on fares and purchase options, visit the CTA website.
20. Commuters rejoice with Metra commuter rails
For high-speed, affordable, and convenient commuter travel bee-line for Metra. This commuter train schleps everyone, from tourists to locals within the city proper to the Chicago suburbs, such as Northbrook, Glenview, Buffalo Grove, Arlington Heights, Schaumburg, Downer Groves, Oak Park, among others with efficiency and grace.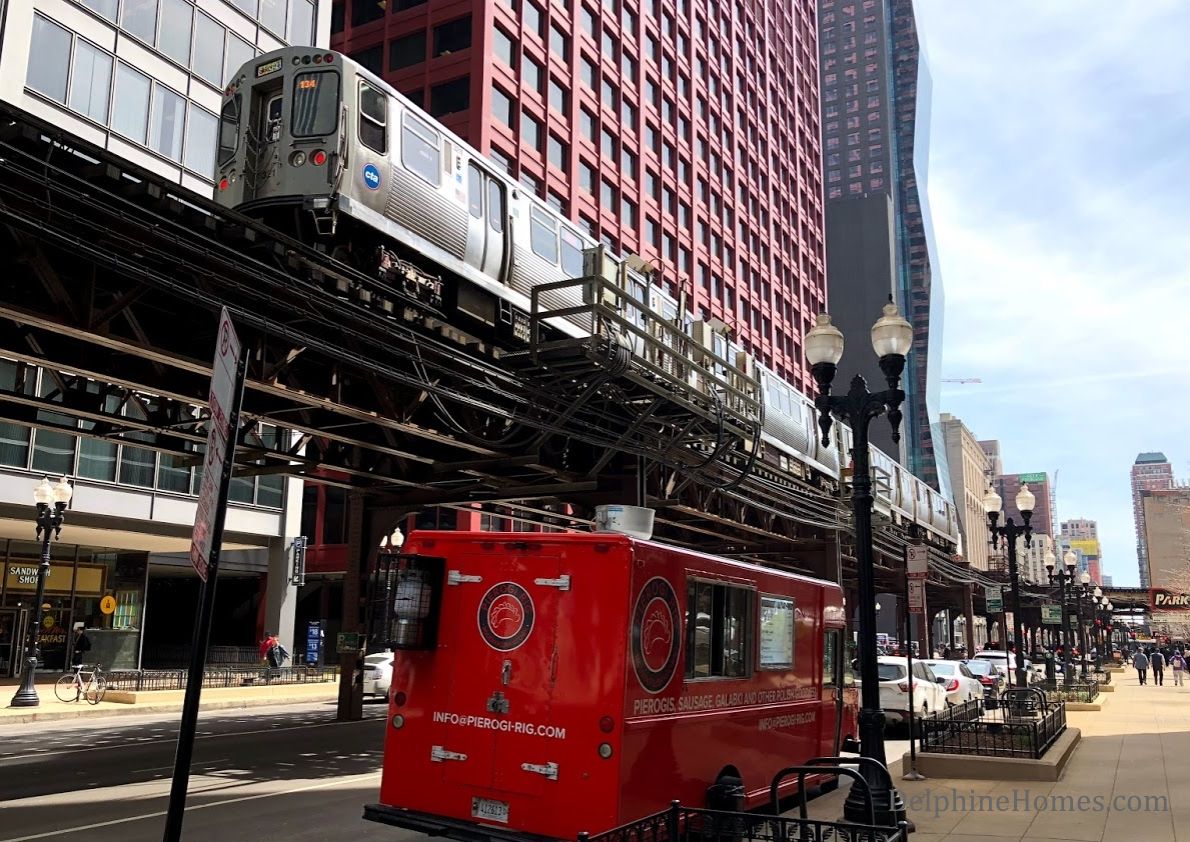 Over 495 miles of commuter rails serve 240 stations across the city. Metra also offers monthly passes for regulars. Prices vary, depending on your "zone."
For info on Metra monthly passes, visit Metra's website.
21. Ridesharing abounds
With over 66,000 rideshare vehicles in Chicago, you won't have any issues calling on Uber or Lyft. In fact, there are so many rideshare drivers that advocacy group, Chicago Rideshare Advocates is putting pressure on officials to follow New York's charge and cap the number of rideshare vehicles in the city. Boosting wages and improving drivers' safety is also a priority for the group.
22. Chicago has not one, but TWO airports!
Home to one of the world's busiest airports, O'Hare International Airport (ORD) is just 15 miles northwest of downtown Chicago. O'Hare has 5 terminals and serves both domestic and international flights. To and from the airport is a cinch. Of course, you can call an Uber, Lyft, or Taxi – but if you or your visitors would rather save some money, public transportation is easy peasy – plus you'll avoid traffic!
From O'Hare, the Blue Line takes you downtown in about 40 minutes. Trains depart at least every 6-10 minutes during the day. By night, travelers won't be stranded, with trains departing every 30-minutes.
You may or may not find yourself traveling through Midway International Airport (MDW) very often, as it is mainly served by American, Southwest, and United Express. Some of the destinations out of Midland, include Denver, Austin, and Phoenix. However, it's fun to have two airports rather than one, yes?
From the sky, Chicago is a sight to behold. The flat terrain is anything but dull, thanks to the grid system. At night, the streets extend across the sky as far as the eye can see. Take a look at one Reddit poster's night photo from the sky to see just how impressive this grid is!
23. It's unlikely you'll ever get lost…
Chicago's innovations don't stop at skyscrapers and deep-dish pizza. Chicago's grid system is not only stunning from the sky, it makes navigating the city easy for local sand out-of-towners alike. Once you understand the grid system, you can do as Bear Grylls and get dropped off anywhere in the city and find your way back – and you won't have to drink your own urine or kill any centipedes getting there!
Here's how it works:
The State/Madison intersection marks the origin of Chicago's address grid system. The address at Madison and State is 0/0. Madison Street divides the city north and south, while State Street divides it east and west.
From State/Madison, each city block address increases in increments of 100. For example, two blocks north of Madison and State would be 200 North Madison. Every eight blocks roughly equals one mile. The grid system is not only useful in planning your route, but it can help you estimate how far away your destination is.
24. You'll want to explore, especially if you love coffee.
Chicago has an obscene number of coffee shops. And we're not talking about first wave or second wave. No, that would be yucky – and Chicago is not yucky!
Heck, maybe it classifies as third wave officially, but it tastes like the freakin' 100th wave… Check out a comprehensive list of Eater Chicago's favorite coffee shops in Chicago or peruse our selection below ~
For kicks (and hits) visit the '80s-themed coffee The Wormhole located in the Wicker Park neighborhood. If you ask nice, they "might" let you test-drive the DeLorean!
For something a bit different, check out Limitless Coffee located in Fulton Market. According to the owners, the drinks are "healthy" with a variety of add-ins, such as activated charcoal. Sounds good to me!
Sip of Hope, located in the Logan Square neighborhood serves up caffeinated beverages; 100% of the proceeds fund local mental health initiatives. Drink up!
25. The place to find that perfect button you can't find anywhere else!
The Busy Beaver Button Company is a legend in the pinback button manufacturing industry. (And don't pretend you didn't know there was such an industry, come on)! The company creates custom buttons for businesses all over Chicago and the world, and maybe the universe!
Let's get away from the seedy, unscrupulous button industry and drive directly to what's truly special at this location: the button museum. Visitors can drool over hundreds of buttons, from old advertising buttons to Ban the Bra buttons, to Cabbage Patch Kids buttons to Anti-Nixon buttons.
Examining these buttons gives the visitor a candid eye into American identity and generational struggles. The artwork is impressive too! Best of all, buttons are still being made today and you can see the button craftsmen at work while visiting the museum.
26. Bringing Fido? Let the city know!
All dogs four months and older must be registered with the City of Chicago. The fee to register is $5 per month if Fido (or Fida) have been spayed or neutered. For dogs that have not been neutered, the registration fee is $50. Don't delay purchasing your dog license, as fines will be incurred daily.
27. Speaking of Fido… there's a fountain to commemorate him
Chicago is known for its art. Museums, architecture, and… shit fountains?
Yes, that's what we're dealing with here.
Chicago's own Jerzy S. Kenar created the bronze coil fountain – and there isn't room for any subjectivity here; this ain't abstract, no mistaking it. This fountain is shaped like a hot pile of dog feces. The fountain is intended as an ironic and subtle (?) reminder to dog owners to pick up after their pets.
Some may say this is a bit passive aggressive, but we just think it's pretty funny. And beautiful, maybe?
Nah, just funny…
28. Every season brings its advantages, but the fall foliage is something else!
Chicago absolutely looks it's finest in the fall – no question about it. Vermont doesn't have the market cornered as far as autumn-hues are concerned. In the fall, Chicago is blanketed with mustard yellows and burnt oranges that make city-dwellers elsewhere green with envy.
29. Chicago is the 6th-best biking city in the United States
Chicago's flat topography lends itself to a great bike ride. Of course, more than terrain is at play when determining whether a city is bike-friendly. It also takes solid, well-thought out infrastructure and lots of funding to secure bicyclists have dedicated lanes and can ride safely.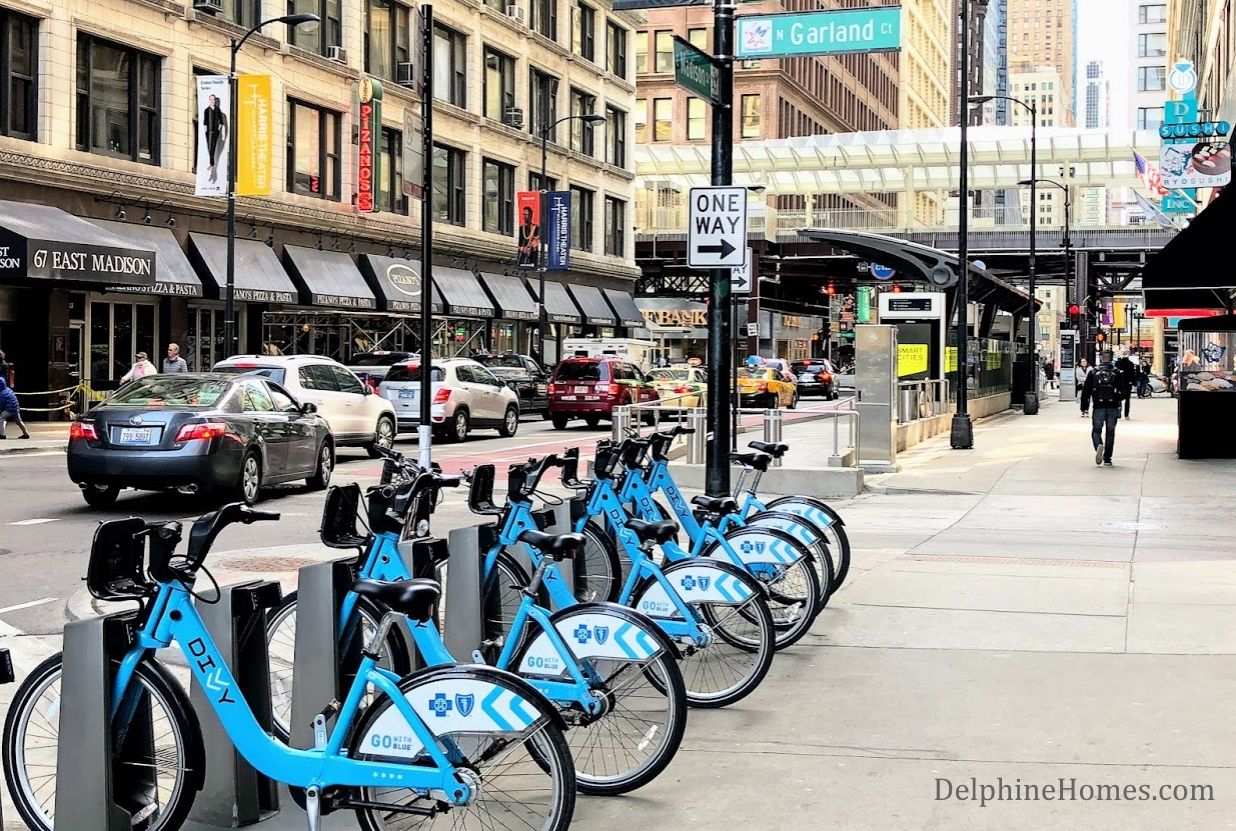 According to the site Bicycling.com, Chicago ranks the #6 most bike-friendly city in the United States due to its emphasis on creating protected bike lanes and offering bikers over 176 miles of buffered as well as off-path roadways. Lots of money is being funneled into bike-related projects, with over $53 million dollars invested in 2018 alone.
Thanks to a $12 million gift, the city is separating bikes and pedestrians on the Lakefront Trail. This popular 18-mile walkway will soon enjoy a bike path for bikers and a separate pedestrian path for walkers to boost safety and enjoyment for everyone.
Biking is so efficient, that riders may opt to bike to work rather than driving or public transportation. Of course, upon arrival you may want to take a shower before meeting up with clients or colleagues.
30. You don't need to own a bike to enjoy a bike ride
Divvy, Chicago's bike sharing program, has a fleet of over 6,000 bikes and 570 docking stations strategically placed across Chicago and Evanston areas. A push to add new Divvy stations to underserved neighborhoods has been in the works, ensuring any Chicagoan who wants to ride a bike has access.
The goal is that by 2020, every Chicago resident will live within half a mile of an accessible bike route.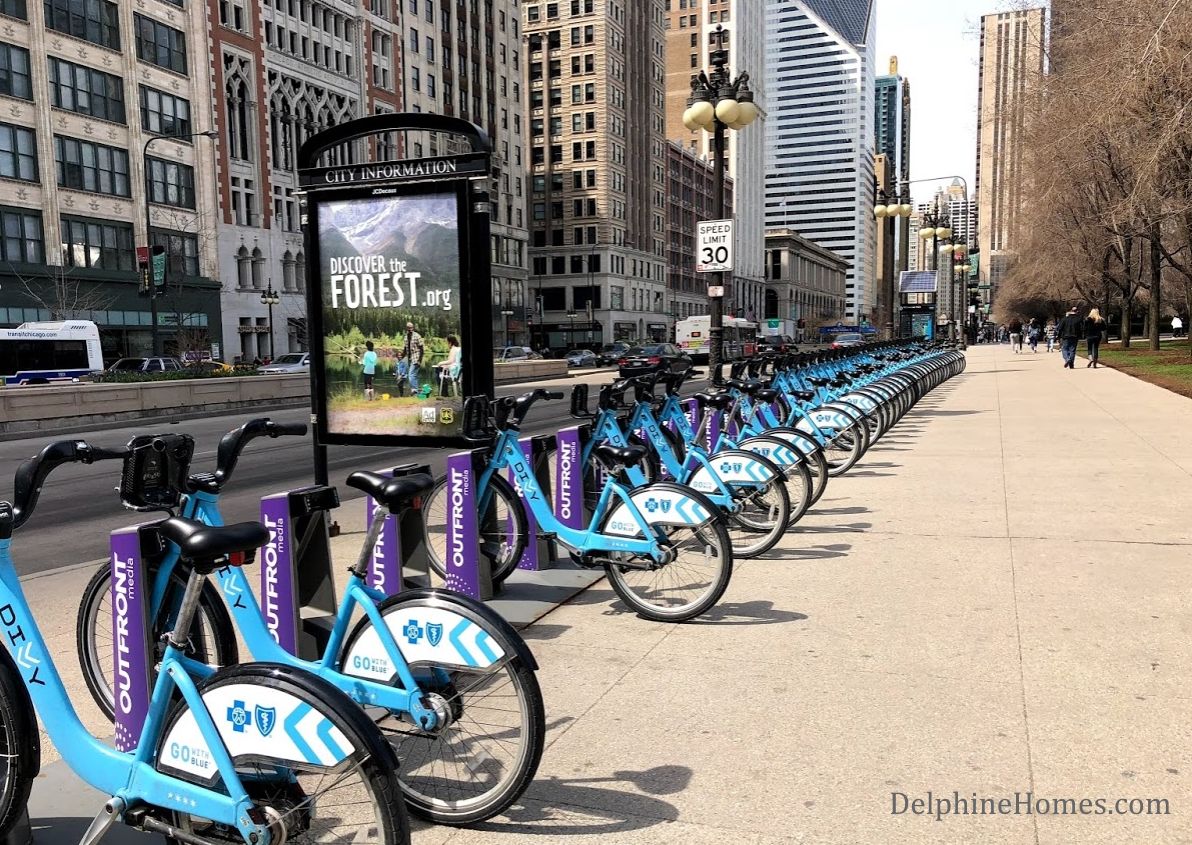 31. Sail, cruise, and paddleboard – but don't feed the sharks on Lake Michigan
Lake Michigan offers unforgettable views that will make even the most jaded of Chicagoans catch their breath. From the water via one of the several water taxis or sailboats, the Chicago skyline is a thing of beauty. Or, for those land lovers that refuse to get wet – views from the shore are pretty darn nice, too.
Admiring Lake Michigan, it's easy to forget that this glorious body of water is in fact a lake – and not the Atlantic.
32. Who said there aren't any beaches in the Midwest?
Chicagoans who like to make-believe that they're coastal have several terrific beaches to saunter, particularly on the north side of Chicago. Rogers Park and Montrose Beach are two local favorites.
For those of us with our dogs in tow (our registered dogs, mind you), Montrose is ideal as it is open to dogs. Osterman beach, renowned for its nachos, is another hot spot. Eating gooey hot cheese goop with your toes in the sand? Why not.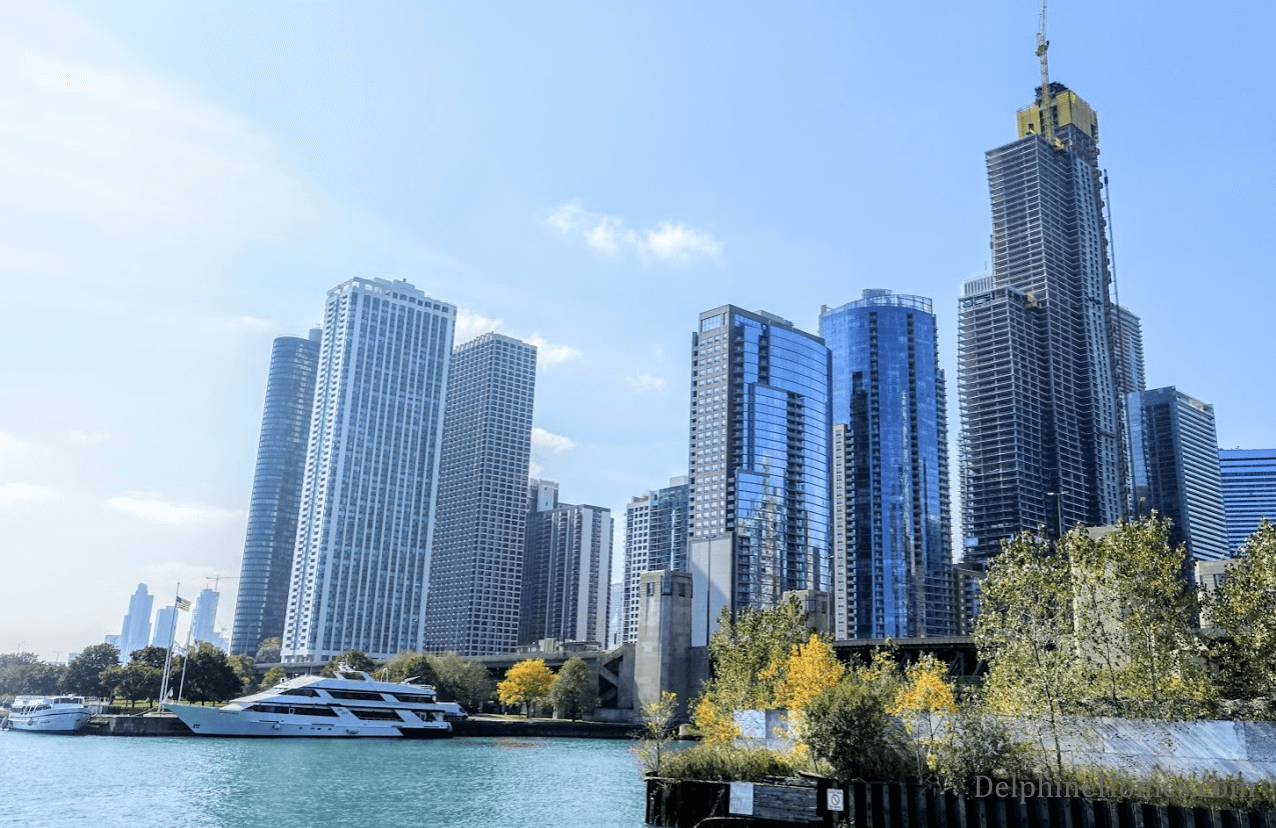 33. Millennium Park is where you'll find Chicago's most iconic public art
Located in "The Loop" neighborhood in the heart of downtown Chicago, Millennium Park is filled to the brim with art, music, and gardens.
While it's home to many sculptures, including the interactive Crown Fountain, the most celebrated public sculpture is Anish Kapoor's "Cloud Gate;" to locals, it's simply called "The Bean."
This elliptical arch that looks very much like a kidney bean with a highly-reflective, futuristic-looking surface distorts the city's skyline as well as the human faces that peer into it.
No matter the time of year, Millennium Park's motto is generosity. From free movie screenings every summer Tuesday night to free workout sessions, as well as free after-school programs for teens. This is a park Chicagoans cherish!
For more Chicago "best-ofs," check out this article from The Crazy Tourist.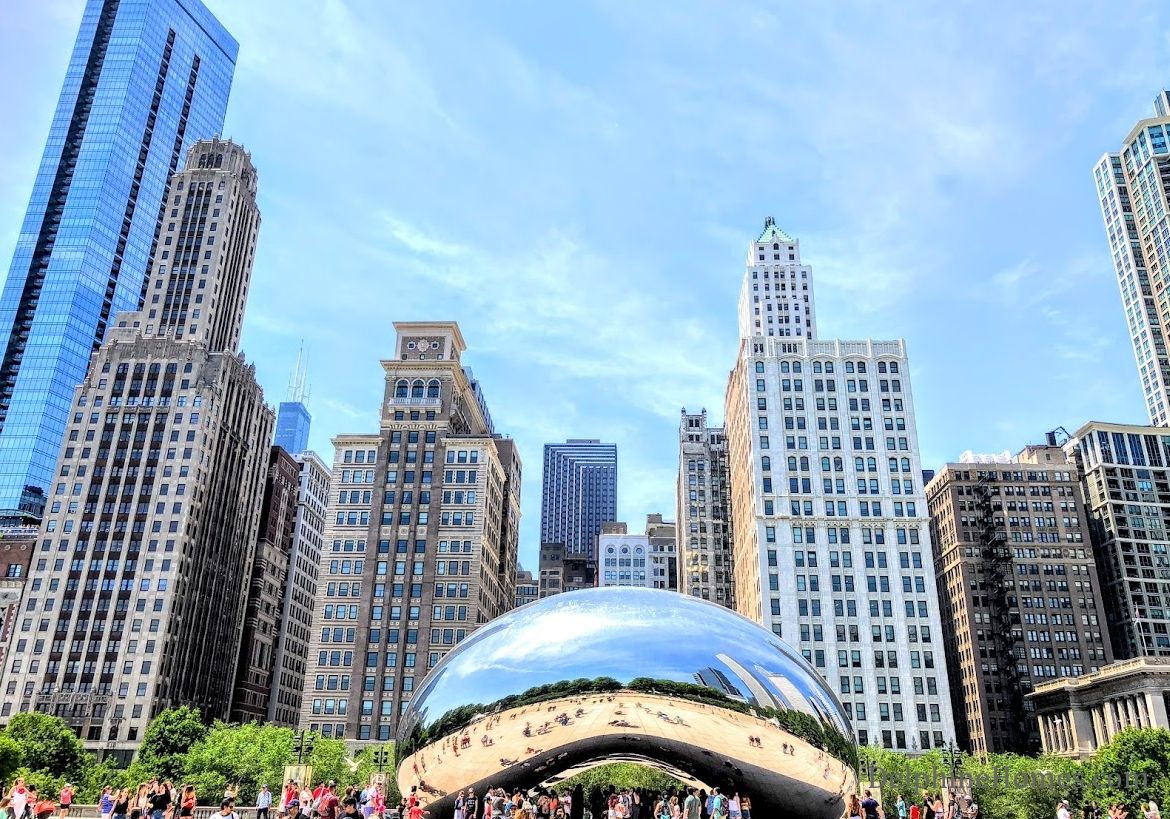 34. And yes, the Lincoln Park Zoo is free, always
Chicago is one of the best cities for families in large part to the variety of activities that can be had – for free. Located in Chicago's Lincoln Park neighborhood, the Lincoln Park Zoo is home to ~1,100 animals and around 200 species. Founded in 1868, Lincoln Park Zoo is one of the oldest zoos in the U.S. Residents include penguins, polar bears, reptiles, birds and many more.
If adults want to leave the kids at home and enter the wild side, the zoo offers an "Adults Night Out" event. Meow!
35. Job market is competitive – time to network!
Like most cities, the job market is cut-throat. Fortunately, you are the master of your own fate and have the ability to network (you're charming, after all). If you don't know anyone and don't have a job lined up, it can be especially tough. Personal referrals are everything. Get yourself out there and start making friends.
You need to get out more anyway, right?
| | | |
| --- | --- | --- |
| Company Name | Address | 2017 Rank |
| Walgreens Boots Alliance | 108 Wilmot Rd, Deerfiled | 17 |
| Boeing Company | 100 North Riverside, Chicago | 24 |
| Archer Daniels Midland Company | 77 W Wacker Dr #4600, Chicago | 45 |
| United Continental Holdings, Inc. | 233 S. Wacker Drive, Chicago | 83 |
| The Allstate Corporation | 2775 Sanders Rd, Northbrook | 84 |
| Exelon Corporation | 10 S Dearborn St 48th Floor, Chicago | 89 |
| Kraft Heinz Company | 200 E Randolph, Suite 7600, Chicago | 106 |
| Mondelez International | 3 Parkway N, Deerfiled | 109 |
| Abbvie | 1 Waukegan Rd, North Chicago | 111 |
| McDonald's | 2111 McDonald's Plaza, Oak Brook | 112 |
| US Foods | 9399 W Higgins Rd #500, Rosemont | 124 |
| Sears Holdings Corporation | 3333 Beverly Road, Hoffman Estates | 127 |
| Abbot Laboratories | 100 Abbott Park Road, Abbott Park | 135 |
| Conagra Brands | 222 W Merchandise Mart Plaza #1300, Chicago | 197 |
| CDW Corporation | 75 Tri State International, Lincolnshire | 199 |
| Illnois Tool Works, Inc. | 155 Harlem Ave, Glenview | 202 |
| Discover Finacial Services | 2500 Lake Cook Rd, Riverwoods | 277 |
| Baxter International, Inc. | 1 Baxter Parkway, Deerfiled | 281 |
| W. W. Grainger, Inc | 100 Grainger Pkwy, Lake Forest | 282 |
| LKQ Corporation | 500 W Madison St Suite 2800, Chicago | 304 |
| Tenneco, Inc. | 500 N Field Dr, Lake Forest | 322 |
| Navistar International Corporation | 2701 Navistar Dr, Lisle | 337 |
| Univar | 3075 Highland Pkwy #200, Downers Grove | 338 |
| Anixter International | 2301 Patriot Blvd, Glenview | 359 |
| RR Donnelley | 35 W Wacker Dr, Chicago | 388 |
| Jones Lang LaSalle Inc. | 200 E Randolph St # 430, Chicago | 391 |
| Dover Coparation | 3005 Highland Pkwy, Downers Grove | 392 |
| TreeHouse Foods, Inc. | 2021 Spring Rd #600, Oak Brook | 427 |
| Motorola Solution, Inc. | 500 W Monroe St, Chicago | 433 |
| Old Republic International Corp. | 307 Michigan Avenue, Chicago | 439 |
| Packaging Corporation of America | 1955 W Field Ct, Lake Forest | 450 |
| Ingredion Incorporated | 5 Westbrook Corporate Center, Westchester | 456 |
| Arthur J. Gallagher & Co. | 2850 Golf Rd, Rolling Meadows | 462 |
| Essendant | 1 Parkway N, Deerfield | 487 |
Fortune magazine, June 7, 2017 issue
36. Build your network before you arrive
Whether you have friends and family in Chicago or not, it's a good idea to start broadening your network before you arrive.
Career advice website the muse has great tips on how to network from afar. For example, you may presume that you don't know a soul in Chicago – try tapping your LinkedIn connections and you might be surprised. On that note, use LinkedIn to research regional associations or chapters in your line of work and interests.
Meetup is another fantastic resource to explore local events and opportunities to get together with others who share your interests. And if your favorite hobby doesn't exist? Say, "truffle hunting in Grant Park" – you can create your own Meetup and start a trend in Chicago.
37. Of course, sports are an easy way to make friends (or enemies) …
If you love sports (and depending on what sport teams you root for, please don't let it be the Twins or Cavaliers – in which case, you might as well not move to Chicago), making friends in Chicago is a piece of cake. You can join a recreational league or if you prefer to enjoy sports without raising your heart rate, there are innumerable spots to enjoy everything from football to baseball to hockey to lawn bowling!
38. Chicago is home to the nation's second-oldest ballpark
Home to the Chicago Cubs since 1916, Wrigley Field was purchased by chewing gum magnate William Wrigley Jr. (yes, at one time there was such a thing). The stadium is smack-dab in the middle of a residential neighborhood and is one of the few US sports venues where locals can view games from their Chicago condos roofs.
The scoreboard, which is manually operated, has been around since 1937. Although it's never been whacked by a baseball, it has been hit by a golf ball when golfer Sam Snead teed off from home plate.
39. Minimum wage
Illinois' state minimum wage is $8.25 per hour. Chicago, however, has set its own higher minimum wage rate set to take effect July 1st, 2019 upon which the minimum wage will increase to $13.00 dollars per hour.
On February 19th, Illinois Governor JB Pritzker signed a bill to raise the state's minimum wage to $15 dollars per hour by 2025.
40. Largest Latino museum in the US
The National Museum of Mexican Art is a treasure-trove of Mexican Art. The permanent collections, rotating exhibits, performing arts-showcases, and the spectacular Day of the Dead exhibition makes this museum a must-do no matter the time of year.
41. And for the aspiring surgeon…
If you're an aspiring surgeon or just enjoy surgical history (alright…..), The International Museum of Surgical Science is the museum for you. Holding over 7,000 artifacts documenting the history of surgery, visitors will find an amputation saw from the 1500s, iron lungs, and early heart valves. For those who aren't comfortable around surgical equipment and gore, there is the room full of cadaver murals.
42. Most bars close at 2AM but there are exceptions…
Most bars in Chicago close at 2AM. However, being the 3rd largest city in America, the powers-that-be somehow know that at 2AM the party is just getting started. For those folks, there's the "4AM bar."
These 4AM bars are few and far between, and frankly at that hour you may just want to go back home and catch some zzzzzs. However, if you're a night owl and want one last night cap, (or does 4AM qualify as a "morning cap"?), you can check out Timeout's list for the best 4AM bars in Chicago.
43. Your taste buds better be ready…
Everyone is familiar with Chicago deep-dish pizza, hot dogs, beef sandwiches, twinkies, beer, and brownies (well, just about all of your guilty food pleasures); but you may not know about the "Taste of Chicago" food festival. It's where all these amazing delicacies – and more – congregate (but not for long, as they get consumed fast!).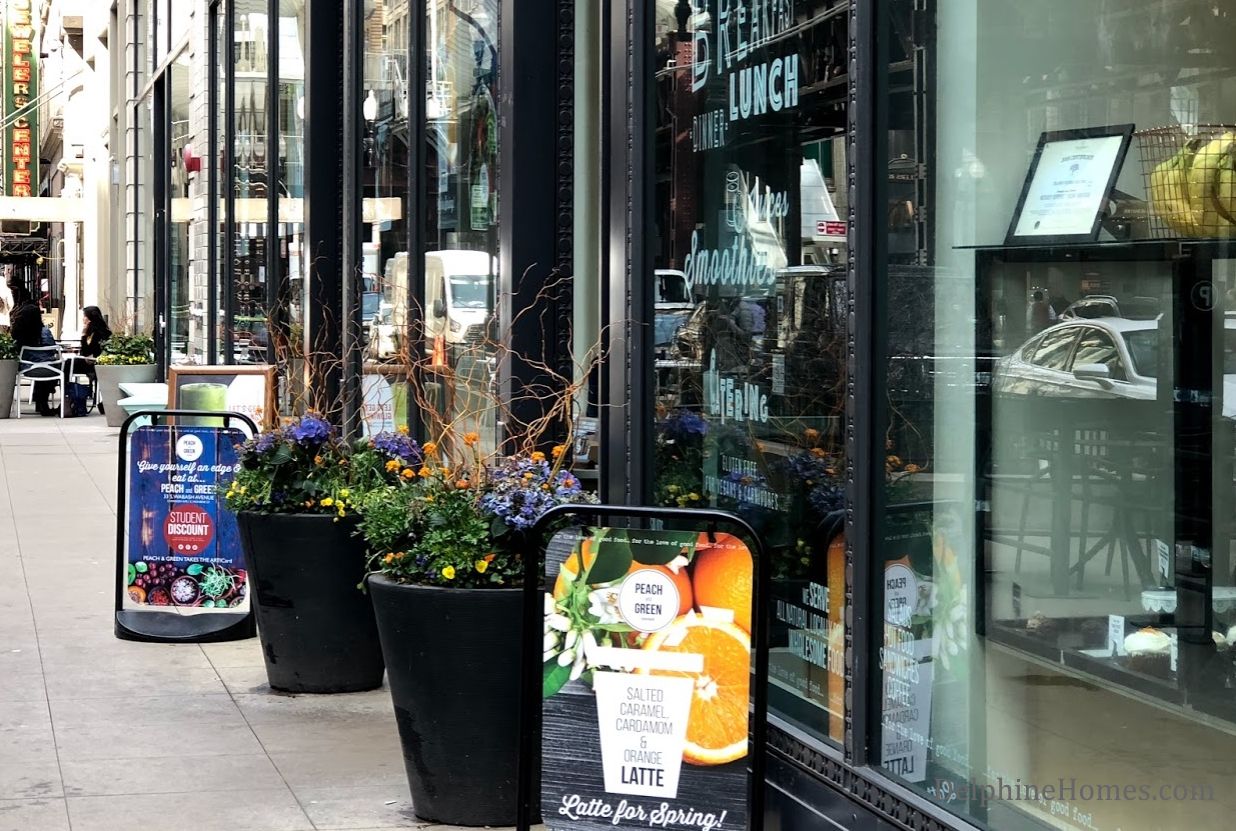 During the summer months, Chicago is a time of indulgence – well, more indulgent than usual… Over one million stomachs attend – and the way they eat, some would suspect cows aren't the only mammals with two!
44. And when "Taste of" isn't on, street food will console
Look – I live in Chicago okay? Did that sound defensive? I guess it did, sorry…
It's just if this list is going to properly prepare you for moving to Chicago, then you need to know everything – and I mean everything. Sure, yours truly does eat and drink more than her share – but you will too after you become one of us! Muhahaha!
Let's just say eating and drinking is a Chicago pastime and leave it at that, okay?
One of the best things about Chicago's food scene is that you can always find inexpensive, flavorful, and downright inspiring food from a counter, cart, or curb. $1 tacos, snow cones, polish sausage, fresh mangoes, and dozens of other items you didn't know you needed until you saw that glorious box on two wheels.
45. Home to the nation's largest collection of impressionist artwork
Located in Grant Park, The Art Institute of Chicago is one of the most popular museums in the world – and for good reason. Old Masters, American art, Asian art, African art, Impressionist and Post-Impressionist, Modern – you name it, they've got it.
Impressionist-buffs will be particularly, uh… impressed. Monet, Matisse, Seurat, Cassatt, and Van Gogh. The list of impressionist works goes on and on. In fact, The Art Institute carries the largest collection of Impressionist paintings outside of Paris. Take that, Paris!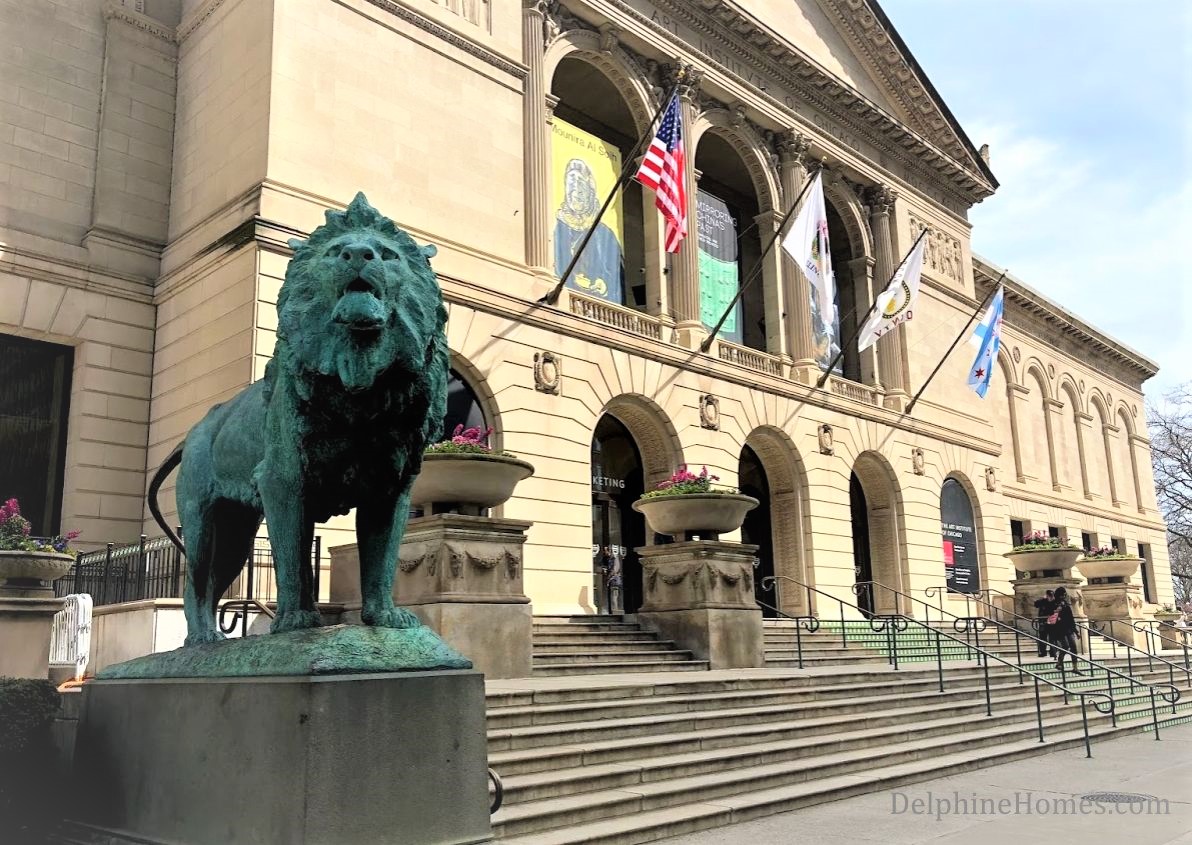 46. Only one river in the world flows backwards – find it in Chicago
The Chicago River flows through downtown Chicago… backwards. This innovative feat of engineering is unique of its kind all over the world. Reversed for sanitation reasons, engineers diverted the sewage away from Lake Michigan's water supply. Pretty good idea, eh? The raw sewage is carried upstream towards the Mississippi, which then flows south to the Gulf of Mexico.
Despite this engineering achievement, you'll find that the Chicago River turns green every Saint Patrick's Day. Don't be alarmed, the river's flow hasn't been interrupted. The green color is intentional. It is not poop.
47. HQ for the Capone Mob during the prohibition-era
Al Capone, Bugs Moran, and Dion Johnny Torrio are just a few of the infamous names of Chicagoland mobster-dom that still don't need any introduction. But most people don't know the names of the other local mobsters of that era. Guys like "Greasy Thumb" Guzik, Murray "The Camel" Humphreys, "Bit Tuna" Accardo, and "Three Finger Jack" White.
Interesting? Sure. But we aren't sure we even want to know how those guys got their nicknames, so let's move on…
48. Hotbed of funny at Chicago's Second City
Over the last 60 years, Second City has unleashed a deluge of comedy onto the world.
Comics such as Tina Fey, Stephen Colbert, Amy Poehler, Steve Carell, Bill Murray, Keegan-Michael Key, Jason Sudeikis, and many more have participated in this renowned comedy club and improv company when their careers were just getting started. Make time to see a show – who knows, the entertainer may be the next Stephen Colbert in 5 years… and you'll have seen him first, right here in Chicago!
49. Setting up a bank account is simple
If you need to set up a bank account in Chicago, you won't run into any issues. National banks, such as Chase and Bank of America are ubiquitous. If you'd like a more local vibe, regional banks include BMO Harris Bank and MB Financial, among others.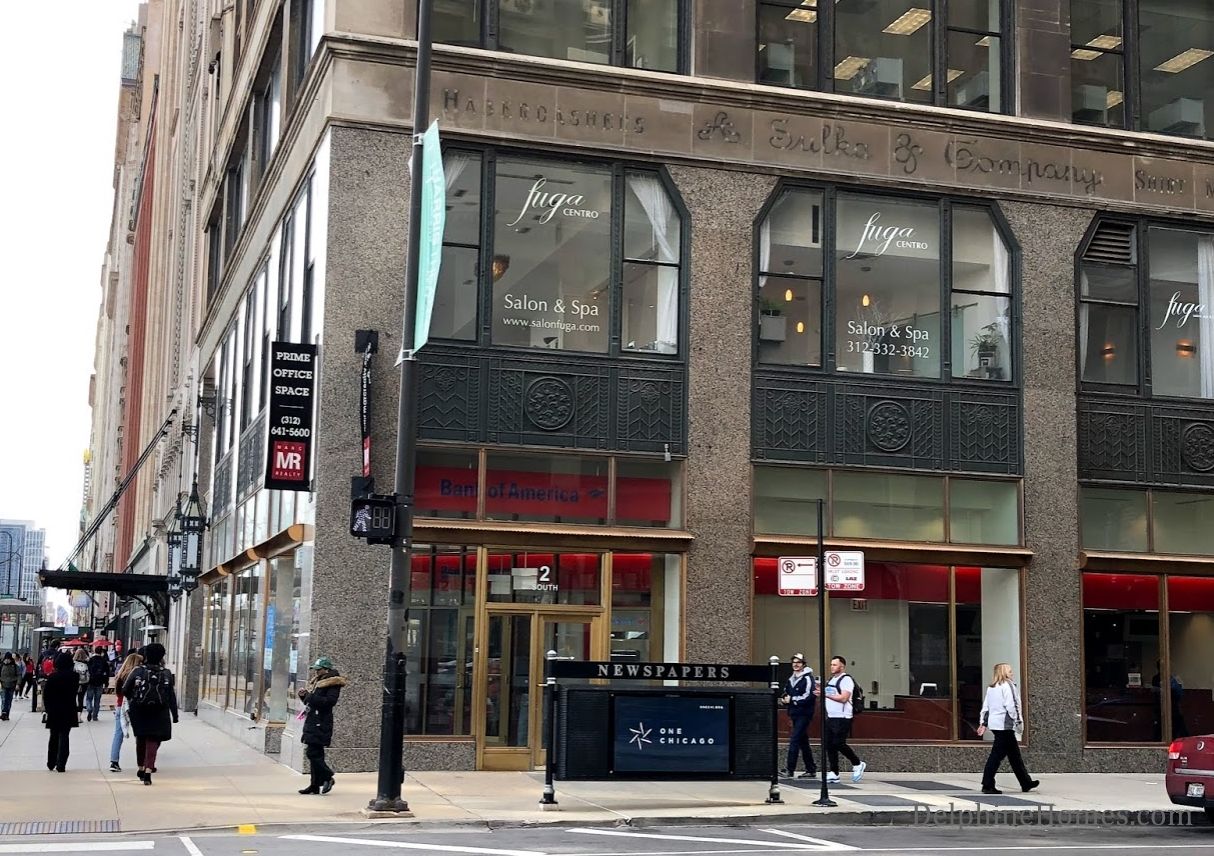 50. International buyers can purchase Chicago real estate
Due to Chicago's attractive job market, the city sees an influx of highly-educated foreign-born professionals who immigrate to Chicago for work. In fact, many of our clients are new transplants not just to Chicago, but to the United States.
For international buyers, purchasing property in the US has its own unique real estate purchasing process. It's important to work with an experienced realtor who understands the legalities and nuances of buying real estate for foreign buyers. The realtors at DelphineHomes.com are experts of these regulations and have the deepest insight into the local Chicago market.
Born in Vietnam and later immigrating to the United States, Delphine has firsthand experience negotiating between varying cultures and customs. Reach out and she can assist in helping you choose translators, attorneys, inspectors, bankers, as well as introduce you to your American dream property. All the MLS listings are posted to our website and updated daily.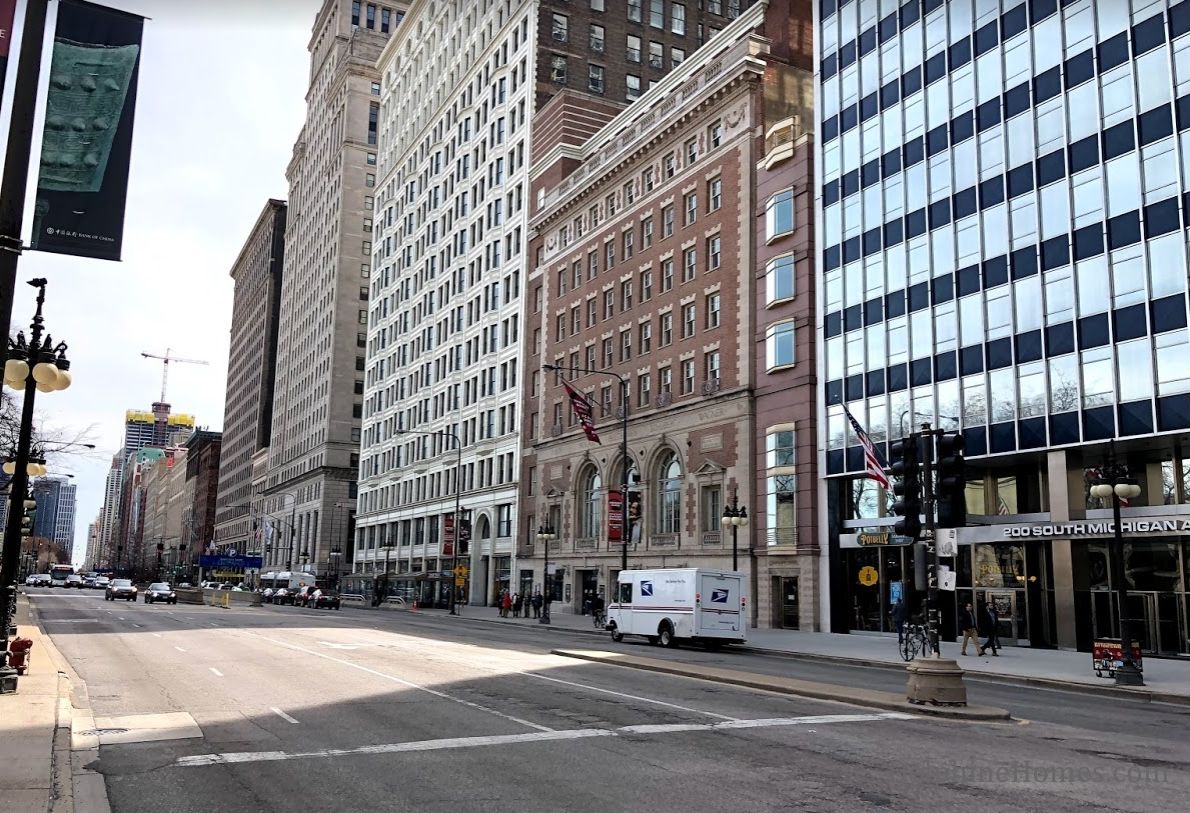 51. The 5 most expensive Chicago communities to rent
The five most expensive communities to rent an apartment are: Near North Side, The Loop, Near West Side, Near South Side, and West Town. In these areas, rental housing is predominantly high-rises, larger apartment complexes, new construction, townhomes, and condos. Parking can be hard to find, so if you can snag a condo with parking that's a major high-five for you!
One of the most popular Chicago neighborhoods is "The Loop." This is where you'll find Willis Tower, and you guessed it – tons of skyscrapers. After all, this is Chicago's business district. Consequently, it's largely packed with architecture, glass, steel, and offices.
The Loop is busy and hectic during the weekdays but come weekends, residents can enjoy a bit of a reprieve from the madness. One of the many advantages of North Side and The Loop is the walkability. Access to the theater district and nearby Millennium Park are highlights.
While you won't find too many single houses here, you will find plenty to make up for it! Just a few of the trendier condos in The Loop include The Heritage and Six North Michigan. At 57-stories tall, The Heritage offers views over Millennium Park and Lake Michigan.
For "intimate luxury," take a look at Six North Michigan. This luxury condominium offers terraces, high-quality appliances, and full-amenities.
One of the unmistakable condos in Chicago's famous Magnificent Mile neighborhood is 875 North Michigan Avenue. Formerly named the John Hancock Center, this 1,128-feet tall skyscraper was completed in 1969. The building is a destination in and of itself, offering an observation deck to sightseers and tantalizing amenities to tenants.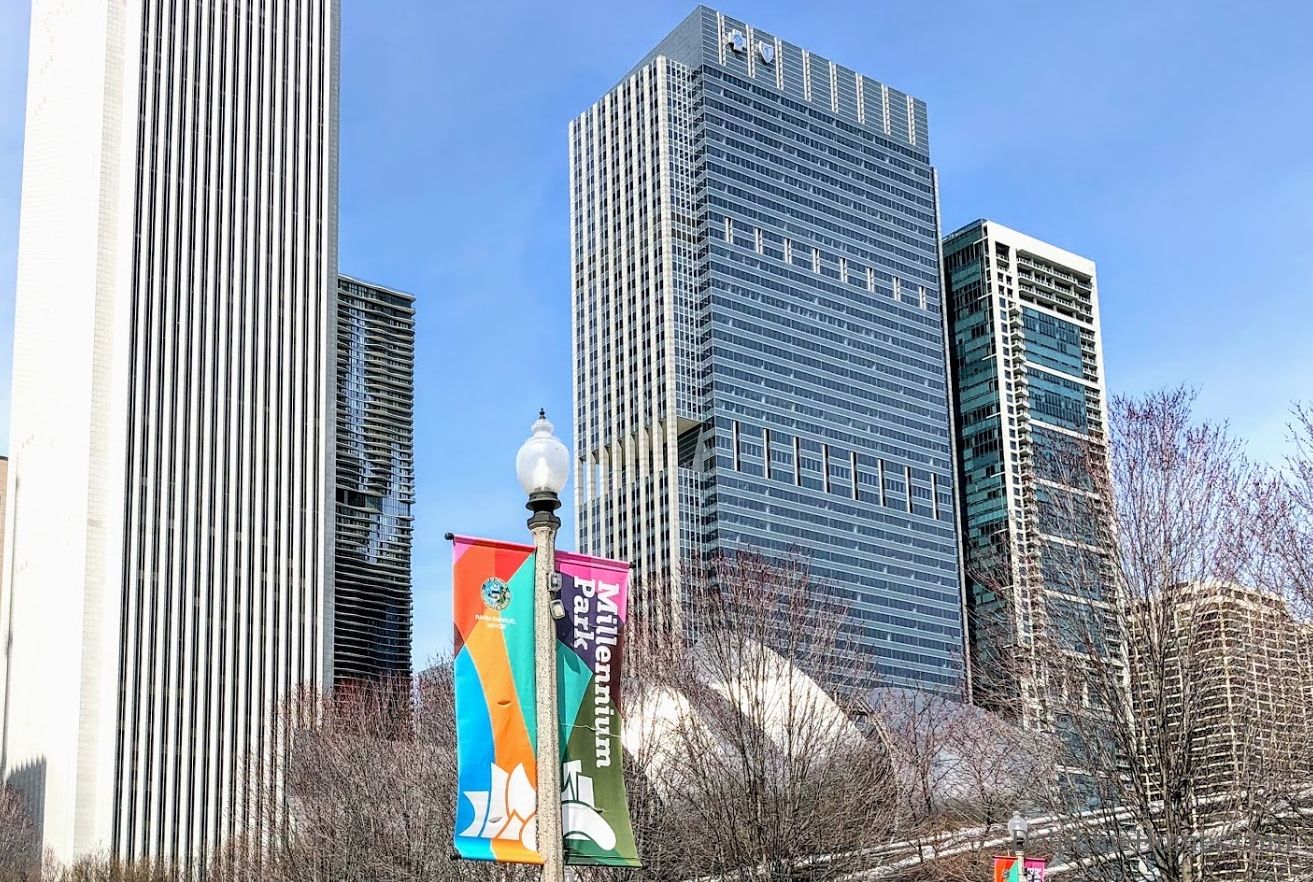 There you have it! 51 need-to-knows and just wanna-knows before moving to Chicago.
If there's one takeaway to this list, let it be this: Chicago has a culture that's a good match for most anyone. This is enormously comforting, isn't it?
When moving to a new city, you want to know a bit about the culture so you can mentally prepare and anticipate how you might fit in. Chicago is one of the most welcoming cities you'll ever experience. Chicago is a diverse and inviting city with the generous and hospitable Midwest sensibility.
Chicagoans are resilient – and with the kind of weather we experience, you've just got to be! In fact, the local saying is "if you don't like the weather, wait 15 minutes!"
As someone about to embark on something as life-changing as a big move, you are resilient too! Chicago may be the perfect fit for you.
Here, we embrace change – whether it be a change in weather, a job, or a move. After all, summer will arrive (eventually). And what do we do here in the summer? Block parties and outdoor events galore!
And you're invited.