How long does it take to buy a house
Posted by Delphine Nguyen on Tuesday, February 9, 2021 at 10:54 AM
By Delphine Nguyen / February 9, 2021
Comment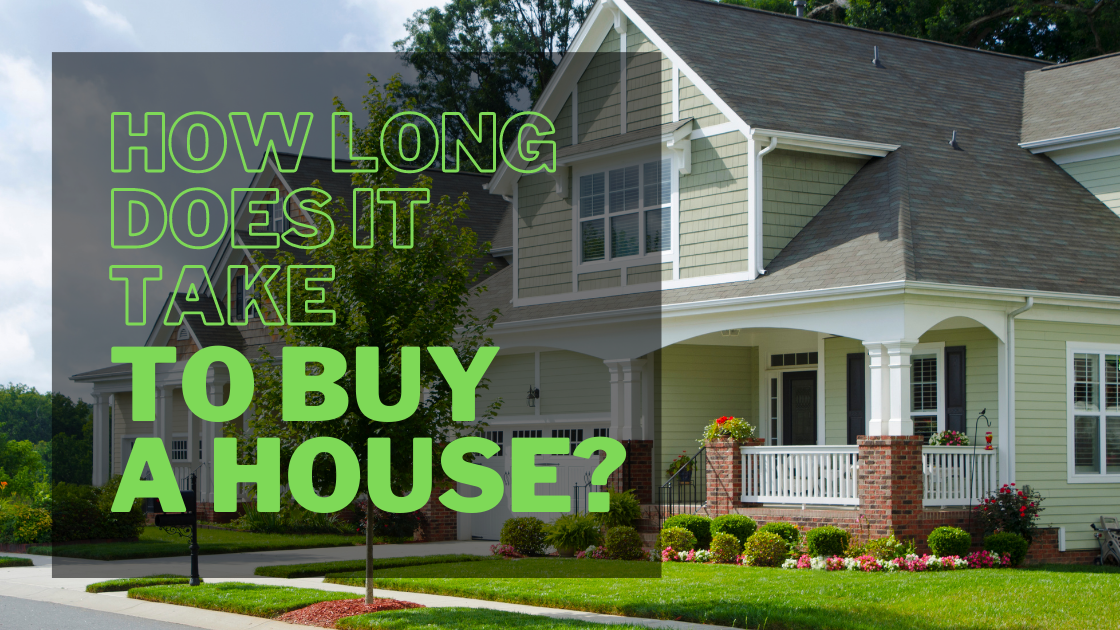 How long does it take to buy a house?
The average time it takes to close on a house in 50 days, but there are many variables that affect the length of your buying process. Make sure you know what they are before you start looking for houses in your area.
When you think about buying a house, the last thing that comes to mind is uncertainty.
Buying a house can be very stressful and scary if you're not prepared. If this is your first time buying a house, it can be hard to navigate all of the steps involved with purchasing real estate property.
The process of purchasing a house begins long before an offer is made on any property. It starts with having realistic expectations when deciding which type of residence will serve your needs best, fitting within your budget limits while planning for any future growth in family size or career advancements is the wise thing to do.
Here are the steps to buy a house:
1. Do your research to buy a house - It can be just a few days or it can be months.
It's easy to get caught up in the excitement of buying your first house, or even your dream house. But before you make any decisions, you need to do some research so that you don't end up making a mistake — like overpaying for a property that doesn't fit your needs. The last thing anyone wants is to fall in love with their new place only to discover they can't afford it!
The good news is that there are plenty of resources available for people looking to buy houses, including online calculators and apps that can help you determine how much house you can afford, as well as interest rates on loans and mortgage terms.
Instead of running around town trying to figure out what kind of loan best suits your needs, work with an experienced real estate agent who will guide you through every step of the process — from determining how much house you can afford to get pre-approved for a loan so you know exactly what price range works for your budget.
Whether you're looking for information on how much should I pay for my mortgage? Or just want general tips on how to buy a house in the Chicagoland area without losing money, our blog has all the answers! Our team of experts is here to help so that no surprises come along down the road.
2. Get pre-approved for a house loan - About a week
You want the house of your dreams, but a pre-approval for a loan goes deeper than pre-qualification. You need documents like your W2s and income tax returns. Documents that are time-consuming to get together (and only more so if you're up against deadlines). And frankly, you can't afford to waste time wading through all the paperwork – hard or electronically - when there just isn't any guarantee insight.
Your chosen lender will be there to help you figure out where to start and which products are best for your situation, which is why the Get Pre-Approved for a Loan product advice article might come in handy. What it boils down to is that getting pre-approved signals serious buyers (ie: you) with extra time and who want to make sure they're ready before making offers - especially since most agents recommend being pre-qualified or even already accepted before making an offer on any house. That involves submitting tons of documents from everything.
3. Find a house - It can be a few day
Finding a house has never been easier. Real estate databases, online searches, and virtual tours make it easy to find what you need in your price range. If you want an agent to find your dream house for you, there are plenty of those too!
The easiest way is to find out which houses match your criteria through our website www.Dephinehouses.com or contact one of the real estate professionals in our team - without any obligation. We can send someone right over if that's what meets your needs best.
4. Make an offer - One day
An offer to buy a house is a common real estate term. Once you've found a house that you want, your agent will help make an offer on the house while considering what other offers are on the table and how much properties in your area typically go for. The offer will also include contingencies, which can protect you if anything changes and makes it so you can no longer proceed with purchasing the house—for example, if you lose your job before the closing date. Your agent will also provide an overview of the property taxes and any pertinent neighborhood information.
5. Sign the house purchase contract - One day or a few days
You should also be aware that once you have made an offer, if it is accepted by the seller, then a contract will be formed between both parties. A contract can only be terminated or changed by mutual agreement between both parties or through legal action such as breach of contract litigation. It is important to understand these rights and obligations before entering into any contracts with real estate agents who represent them in transactions involving residential properties within the state line.
If you're serious about buying a house, make sure to put down an earnest money deposit.
The amount of the deposit is negotiable and varies by state, but it's usually 1% - 2% of the purchase price. You can also negotiate for your earnest money to be applied toward closing costs or other expenses related to purchasing the house.
Your real estate agent will help you determine how much of a deposit is appropriate in your case based on market conditions and what terms are being offered by the seller. It may seem like a lot of money now, but it'll save you from losing out on that dream house if another buyer comes along with cash in hand!
Make sure you have enough funds available so that when your offer goes into contract, you can pay this important fee right away without delay!
6. Schedule a house inspection with a licensed professional - It can be a few days.
A professional house inspector will inspect the property from top to bottom and point out any issues they see that could impact your purchase decision. They can also help you understand what repairs or upgrades are needed to make the house safe and livable for you and your family.
The sooner you get started with scheduling an inspection, the better! You don't want to be in a situation where there is not enough time allotted for repairs if something major comes up during the inspection process. It's always best to leave yourself plenty of time so that everything goes smoothly on closing day when all parties involved have signed off on their part of the deal.
7. Get the house appraised and final mortgage approval - A couple of days
You'll need to get an inspection and appraisal before you can close on the house, but that's not all. The lender will want to see even more current copies of your financial documents.
A good loan officer can guide house owners through the process of getting final mortgage approval without any issues or delays. You want to find someone who knows how to navigate all of the paperwork and requirements, as well as what it takes to get final approval on time for your closing. Having an expert on your side can be very helpful when going through this process.
8. Get title insurance for the house you are buying - A couple of days
Title insurance protects you from problems that could arise if there are any liens or other claims on the property. It also covers you in case someone else has an interest in your new house, like a former owner who didn't pay off their mortgage. If they don't tell you about it, and then try to come after your house for money later, title insurance will help protect you against those kinds of issues as well.
It's important to know that your title company performs a thorough check for any liens or claims on the property before you buy it. You don't want to find out later that there are problems with your title and have no recourse.
9. Get a house insurance policy - A couple of days
Homeowners insurance can help pay for the cost to repair or replace your house in case of fire, windstorms, and other disasters. It also covers liability if someone is injured at your house or has an accident there.
You'll need homeowners insurance if you own a house, even if it's just a condo or apartment unit, that doesn't require mortgage payments. Your lender will require proof of coverage before issuing the loan needed to buy a property. And most lenders won't let you take out another mortgage without additional homeowners insurance in place to protect their investment in case something happens to your property while it's being financed by them.
10. Your house is almost ready to close. Get your closing funds ready now! - It can be one day.
The title company has requested that you wire the money directly into their account, and they have included all of the information in an email. Please make sure that you send exactly what they ask for or else there could be delays in your closing date.
You've been waiting a long time for this day, so don't let it slip away because you didn't follow simple instructions. Make sure to get those funds wired over today!
Check your email and call the title company to see how much money should be wired and where it needs to go. Then just print out the instructions and take them with you when you visit the bank tomorrow morning!
Don't fall victim to scammers posing as real estate agents or sellers! Call your real estate attorney or the title company if you are in Illinois to verify the title company's account before you go to the bank to wire the funds.
11. Do a final walkthrough prior to closing - It can take a few hours
It's the last chance for buyers to inspect their new house before closing on it. The inspection allows them to make sure everything is in good condition and that they are happy with the purchase.
If there are any problems, then they can negotiate with the seller or ask for repairs before signing off on the deal. This way, no one gets stuck with an unexpected bill after moving in.
12. It's the closing date - You've got a lot of signing to do!
You might not think about closing as the final step in the process of buying a new house, but after all of the negotiating is over and you've paid your earnest money, it's right before you become the legal owner. As soon as that happens, you can start moving into your new place!
The end of the process is finally in sight. With closing day, there are a few things you need to take care of: transfer funds from escrow, provide mortgage and title fees, and update the deed of the house to your name. It's all about getting that final signature on all documents!
Our Delphine Team in Chicagoland intends to help make sure everything goes smoothly so our client's dream of homeownership comes true. That's why we put together a list of things every homeowner needs to know before their closing date. Please just ask and we will send it to you.
Buying a house is one of the biggest investments you'll ever make.
It can also be one of the most exciting and rewarding experiences in life, but it can also be very stressful if not handled correctly. There are many steps involved with buying a new house and each step has its own set of challenges that you need to overcome before closing on your dream house.
Baird & Warner is one of the top real estate companies in the Chicagoland area because we have been providing our clients with excellent service since 1855. Our Delphine Team with Baird & Warner is ready to get started on your house buying process today!