3 Ways You Can Start Preparing Your Property In Winter To Sell In Spring
Posted by Delphine Nguyen on Saturday, January 29, 2022 at 6:35 PM
By Delphine Nguyen / January 29, 2022
Comment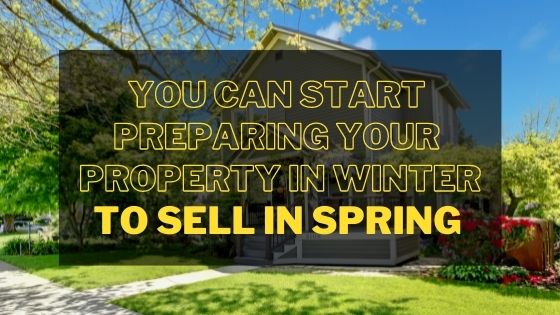 Do you want to sell your property in spring? If so, there are a few things you can do now to help get it ready.
You might not think that the cold, dark days of Winter have much to do with your eventual Spring sale. But in reality, there are some steps you can take now to maximize your home's potential.
Selling a property is always a time-consuming process. So if you leave everything until the last minute, you may find it a lot more stressful than you anticipated.
It can be hard to work on curb appeal when there is a foot of snow covering your lawn. But that does not mean the winter months need to be lost time.
Now is the time to start preparing for next spring's sale!
How to start preparing your property for sale in Spring:
There's a lot of preparation and numerous elements involved in getting your property ready to sell, particularly if you want to enter the market during the busy spring season.
Taking certain measures ahead of time may help you showcase your home in its best light while also helping put you in a better position to sell it quickly, easily, and profitably.
Clean and Declutter:
Spring is the traditional time for cleaning and de-cluttering. But if that is when you are planning to sell, you might want to start thinking about this now. If your property is looking clean and tidy, it will be easier to sell!
And you do not want to be caught in the middle of a spring clean when potential buyers come to call, either.
Cleaning and decluttering will make your home look and feel bigger, plus it is one less thing to worry about when you open your house for viewing. Tackle the mess in every room of the house, and don't forget about storage spaces
This means getting rid of any unnecessary furniture, clothes, or toys. It also means cleaning every nook and cranny.
Focus on specific areas such as living rooms and storage spaces. Work in stages to sort through your stuff and get rid of what you don't need. Give useful goods to charity, and store other items in temporary storage.
You can also use this opportunity to make your house glisten. As you work, do basic cleaning tasks like wiping down countertops and cabinets, cleaning floors, washing windows, and more.
Depersonalize Your Home:
You've undoubtedly left a mark in your house, whether you've lived there for a few years or decades. It helps to depersonalize your space during the winter to get your home ready to sell by spring.
De-personalizing your property is all about making it easier for purchasers to imagine themselves living there. Allowing them to visualize the space as their own helps to speed up the selling process.
You want to make your home feel like a blank canvas that they can fill with their own belongings and memories.
Often, this will involve taking down family photos, unique pieces of art, sports memorabilia, and other specific touches that could turn off prospective buyers.
These personal touches might be what makes your house a home for you. However, you must remember, this is not your home anymore; it's a saleable commodity.
If you sell in spring, all this de-personalizing should be done before buyers come to view the property and make an offer.
Make your property more attractive
Take some time this winter to go on a walkthrough of your entire home, imagining how it would look to a potential buyer.
This is an excellent approach to help you view your old house with new eyes. It will give you the insight you need to plan any renovations, repairs, or changes that will help sell your home as quickly and profitably as possible.
It can also save you money. Once you have a plan of what you can do in the next few months, take advantage of the January sales to get the best deals on materials.
Stores frequently offer the greatest discounts on home items early in the year. If you need to upgrade or stage your home for spring or summer showings, you may wind up spending a significant amount of money. The following are the best items to purchase in January when they are frequently at their lowest prices of the year.
Linens: Stock up on bedding and towels. Bath towels that are tattered don't sell houses, and pastel colors tend to look best for staging. These might not be the shades you would choose for yourself. But shopping against your personal preferences might be less painful with the reduced costs available during the January sales.
Furniture: According to MarketWatch, furniture companies reveal new designs in February, making January the ideal time to get big pieces of furniture at a discount. Fewer furnishings make a room appear larger when selling a home. But introducing a new item or two can help revitalize a space.
Carpeting and flooring: The majority of remodeling projects take place in the spring and summer. This means that supplies are at their most expensive during this period. Even if you don't plan on doing anything for months, consider buying more expensive flooring now to save money.
When you take the time to prepare, carefully plan and execute your home sale, it helps to reduce anxiety and confusion throughout the actual selling period.
Taking care of the above points in January also allows you more free time during the spring. You can use this to focus on improving a home's exterior, selecting an agent, preparing the house for showings, and eventually purchasing your own new property.
Of course, without a good realtor, there's less chance of a successful sell, no matter what season it is. If you're looking for an experienced real estate agent who will work tirelessly on your behalf, please do not hesitate to reach out to The Delphine Team.
Through our extensive experience, we've acquired a thorough grasp of the local marketplace and a strong understanding of how home buyers and sellers think. So start setting the groundwork for a successful spring sale and contact us today.